Bangalore, the Silicon Valley of India, is an incubation hub for some of its best entrepreneurial minds.

The very air is the breeding ground for India's tech future.

These creative minds can be found in their natural habitat, making their bread in some of the best coworking spaces in Bangalore.

But what makes coworking spaces in Bangalore so crucial for the success of these brands?

The best coworking spaces improve both efficiency and proficiency of a business.

For starters, the coworking space's ambience influences the mindset and promotes positivity, leading to better productivity.

These Ergonomically perfected workspaces are lively, designed to generate exciting ideas to tackle new projects.

Moreover, these coworking spaces offer social and networking opportunities with people of a similar mindset.

Recently, with coworking spaces in Bangalore popping at every nook and corner of the city, choosing the best coworking space for your business falls no short of a Herculean task.

But the good thing is that there is something for everyone.

Fasten your seatbelts as we take a tour of some of the best coworking office spaces in Bangalore.

Along the way, we'll compare their prices, location, and all the facilities these coworking spaces provide to make your work-life better. Also, it's essential to know that these places are adjusting to the new normal and have made special arrangements to counter the mitigation of COVID-19 spread.
1. WeWork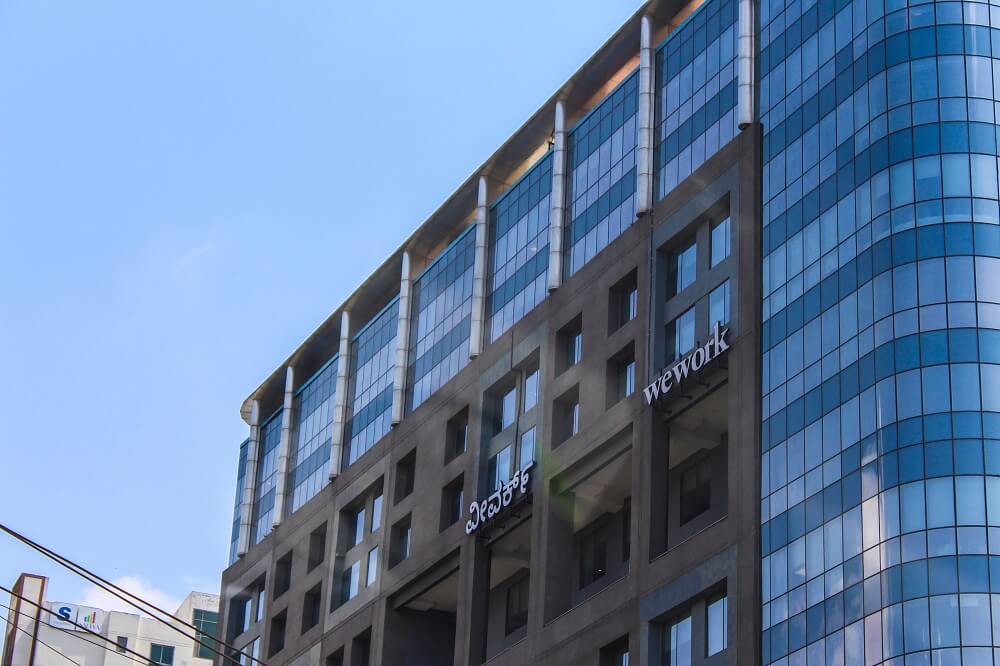 This global co-work space provider is one of the world's biggest in terms of the size of operation.

WeWorkentered India's coworking marketspace through Bangalore in 2017 and has not looked back since, expanding throughout the various metro cities.

Being in the coworking sector for years, one might argue that WeWork has figured the game.

The working environment at WeWork is second to none. The classy interior design provides an unmatched ambience.

But the real showstopper is the humongous community of entrepreneurs, which makes it a perfect place to grow your business.
But what are the amenities that make WeWork one of the best coworking spaces in Bangalore?

Standard amenities including High-speed WiFi, Onsite staff, Business-class printers, Events & conferences
Limitless micro-roasted coffee, tea, and fresh fruit water at all locations.
Wellness rooms, Private Cabins, Event space, and Recreational games
Soundproof phone booths for privacy
Parking facility
Power backup
Library
Meeting rooms with Projector
Free Office stationery
Service dogs permitted. How adorable!
All these resources make WeWork one of the best coworking spaces in Bangalore.
Pricing
Whether you need a workspace for a one-person job or a team, depending on the location and requirements, WeWork has a solution for you.
Following is the range for different workspaces:
Dedicated desks ranging from Rs12,500 to Rs 15,500 per month
Private offices ranging from Rs 25,500 to Rs 55,900 per month
Hot desk membership ranging fromRs9,000 to Rs13,000 per month
Locations
With 13 coworking spaces in Bangalore, WeWork has one of Bangalore's largest coworking spaces networks.
Following are the WeWork locations in Bangalore:
Embassy Golf Links, Domlur
RMZ Latitude Commercial, Hebbal
SalarpuriaMagnificia, Mahadevapura
The Pavilion, Church street
Prestige Atlanta, Koramangala
Prestige Cube, Koramangala
Vaishnavi Signature, Bellandur
Prestige Central, Shivaji Nagar
Embassy Quest, Richmond Town
Manyara NXT Towers, Nagarvara
Salarpuria Symbiosis, Bannerghatta Road
Devarabisanahalli
Galaxy, Residency Road
Embassy TechVillage, Bellandur
Contact Details
Link of all workspaces:https://www.wework.com/en-GB/search
Phone: 8071365400
Email: NA
2. Regus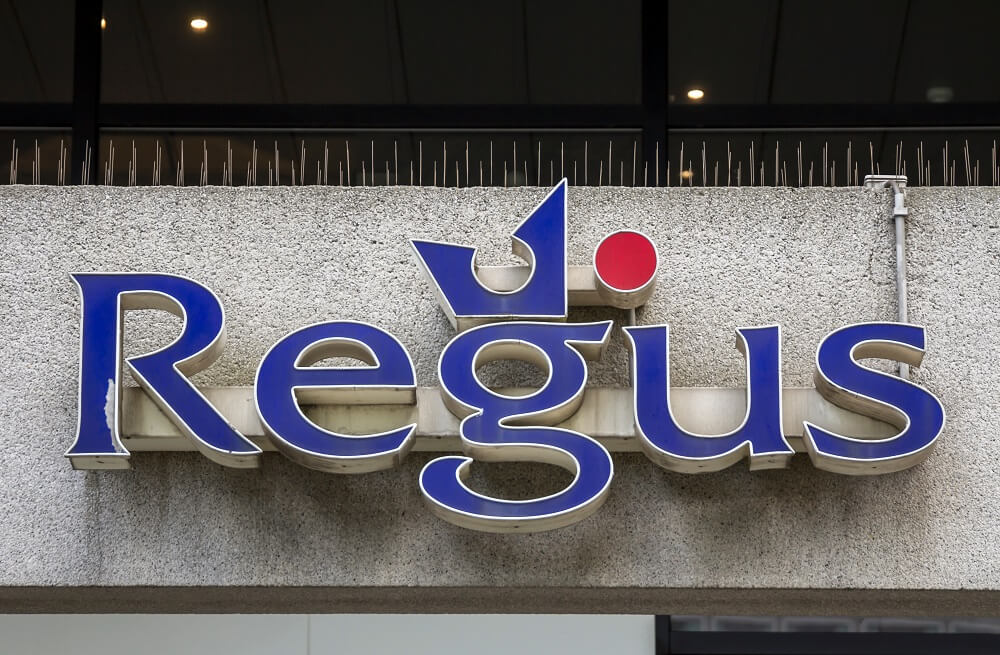 Regus is one of the biggest names in the coworking space, with more than 3000 business centers worldwide.
Regus has13 active coworking spaces located in Bangalore's prime locations, with a couple more coming out soon.
Regus offers fully furnished office spaces with a range of benefits ergonomically designed to enable a business to flourish. This ensures that your experience is no less than a beautiful adventure.
But what takes the cake are the Regus community events, office suites,in addition to exclusive discounts from top brands in the Regus Marketplace.
Following are some of the amenities available with Regus:
High-speed WiFi connectivity
Availability of Office equipment
Maintenance and security
Flexible payment schemes
Access to Lounges and Chillout zones to boost creativity and productivity
IT & telecom setup support
Meeting rooms availability
Highly-trained reception and support team
Cleaning, utilities & security
Printers and access to admin support
Locations
VittalMallya Road
Raheja Towers
The Estate Building
Fairway Business Park
Tejas Arcade 527
Supreme Overseas Exports Building
World Trade Centre
RMZ Infinity Tower D
IBIS Hotel
Manyata Embassy Business Park
Tower Delta
Brigade IRV Centre
Crescent Tower 4
Pricing
Based on the location and the type of workspace needed, the pricing is as follows:
Dedicated Desk starting from Rs 8,100per person per month
Coworking membership starting from Rs 3,850 per month
You need to contact them for more information regarding pricing
Contact Details
Links of all workspaces: https://www.regus.com/en-gb/india/bangalore/coworking
Phone: 02267869226
Email: NA
3. CoWrks
Cowrks are one of Bangalore's most sought-after coworking spaces, thanks to their beautifully yet boldly designed workspaces.
What makes them unique in the market is that they offer end-to-end customized and tailormade managed workspace solutions.
Moreover, they organize events to help their community members refresh their minds, body, and spirit while allowing them to network and grow.
Among its many benefits, it allows complete flexibility in terms of contract as well as enterprise-grade security.
Cowrks is easily one of the best coworking spaces in Bangalore due to its extraordinary amenities. These include:
Uninterrupted WiFi
Luxurious lounges designed to foster creativity and collaboration
Soundproof phone booths for privacy
Seamless assistance for your visitors, with guest WiFi access for Visitor management
Secure printing
Community desk support
Spacious parking
Limitless Tea, artisanal coffee, cookies, and fruit water
PAN access; work from any Cowrks coworking space
Facility to Brand your coworking space
Work in privacy
24 hours 7 days coworking space availability
Power backup
Pricing
Cowrkshas a variety ofcoworking space plans. These include:
Dedicated Desk starting at Rs 11,499 per month
Flexible Desk starting at Rs 10,499 per month
Enterprise (price available on contact)
Personal Studio (Teams of 1-50 members) (price available on contact)
Personal Suite (Teams of 51-200 members) (price available on contact)
Locations
Located in the city's prime corporate hubs, Cowrks has six offices in Bangalore, including a coworking space in Koramangala. These include coworking spaces in the following locations:
RMZ Galleria, Yelahanka
RMZ Infinity, New Indiranagar
RMZ Ecoworld, Bellandur
Koramangala
Whitefield
Residency Road
Contact Details
Links of all workspaces: https://www.cowrks.com/coworking-space-bengaluru
Phone: 9538611122
Email: [email protected]
4. Awfis
Talk about striking a perfect balance; the vibrant coworking spaces at Awfis provide an excellent value for money and are considered one of Bangalore's most affordable coworking spaces.
But it is the creative atmosphere for the entrepreneurs at Awfis which brings out the best in them.
An ample number of Networking events, guest speakers, and fun community events help bring people together.
One of their unique features is that they allow web and mobile-based apps to facilitate bookings. Whether you need a desk for an hour or a high-quality meeting room, you can quickly and easily book one at your convenience.

Some other amenities include
Unlimited High-Speed WiFi
Courier & Storage facilities
Concierge services
Lounge accessibility
Parking availability
Limitless Tea and Coffee
Printer access
Safe and secure data and IT solutions
Lockers
Meeting rooms with Projectorand video recording equipment
Free Office stationery
Food on Demand
Power backup
Gaming Area to recharge and boost creativity
Pricing
Awfishas a variety ofcoworking space plans. These include:
Fixed Desks ranging from Rs 7,500 to Rs 14,000 per month
Flexi Desks ranging from Rs 4,000 to Rs 6,000 per month
Meeting Rooms ranging from Rs 500 to Rs 950 per hour
Cabins ranging from Rs 9,000 to Rs 14,500 per person per month
Locations
Awfis has ten coworking spaces across Bangalore. Their locations are:
Begur Hobli Hosur Road
Kirloskar Tech Park Hebbal
Lavelle Road
Lavelle Road 2
MG Road
Mission Road
Residency Road
St Marks Road
St Marks Road 2
Whitefield
Contact Details
Links of all workspaces: https://www.awfis.com/office-space/bengaluru
Phone: 18602586633
Email: [email protected]
5. 91 Springboard

91 Springboard is the first choice of many startups who want to have the bestfacilitieswith low expenses.
A wide variety of membership optionsmake 91 Springboard one of the best coworking spaces for individuals.
Whether you are a freelancer or a small team, you like to work during days or at night, 91 Springboard has the solution for you.
The community sees 91 Springboard host over 2000 events per year, from open mic nights to workshops and seminars that provide ample opportunities for socializing and networking.
Some of their special amenities include
Hassle-free setup and pay-per-use plan
24*7 access which means you work as per your schedule
Secure private cabins and bright open workspaces
Seamless and Unlimited High-Speed WiFi that is reliable
Unlimited Tea/coffee
Power backup
Private Cabins
Meeting rooms with Projector
Free Office stationery
Gaming zone
Pricing
The plans provided at 91 Springboard are customizable depending on your size and requirement. These are:
Open dedicated ranges from Rs 7,600 to Rs 8,800 per person per month
Open Flexi ranges from Rs 6,100 to Rs 7,200 per person per month
Nights (post 7:30 on weekdays) & weekends range from Rs3,800 to Rs4,300 per person per month
Part-time (12 days a month) ranges from Rs 5,200 to Rs6,200 per person per month
Day pass (flexible Desk in an open area for 8 hours) ranges from Rs 500 to Rs580 per person per day
Private 1-seater ranges from Rs12,500 to Rs 13,500 per person per month
Private 2-seater ranges from Rs10,100 to Rs11,700 per person per month
Private (3-9 people) ranges from Rs 9,100 to Rs 10,500 per person per month
For enterprise (20+ team size), you'll have to contact them.
Locations
There are a total of 7 workspaces spread over the city. You can find them at the following locations:
ORR-Mahadevapura
Indranagar 80ft Road
J.P. Nagar Pavilion
Koramangala 7th Block
Koramangala 8th Block
MG Road
ITPL Main Road, Mahadevpura
Contact Details
Links of all workspaces: https://www.91springboard.com/coworking-space/bangalore/
Phone: 08047489191
Email: [email protected]
6.BHIVE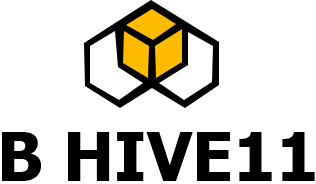 Another top coworking space in Bangalore is BHIVE.
With a mission to become the most sought-after coworking space provider in India, BHIVE offers fullyfurnished coworking spaces with state-of-the-art facilities.
A part from that, they also offer several member and community benefits, making it one of the coolest places to work.
Some of the amenities at BHIVE include:
WiFi-enabled with backup internet
24*7 access to the facility
Limited parking at premises, but ample space outside the workspace
Access to all Coworking areas across all workspaces
Unlimited Tea and coffee
Power backup
Private Cabins
Meeting rooms with Projector
Free Office stationery
Access to Balcony and Lounges
Security personnel stationed at each workspace.
Pricing
BHIVE has a variety ofcoworking space plans. These include:
Shared Desk ranges from Rs 6,500 to Rs 10,00 per month
Day Pass ranges from Rs 365 to Rs639 per day
Bulk Day Pass (for ten days) ranges from Rs 3,000 to Rs 5,000
Meeting Rooms (per hour) starts from Rs 400 and goes up to Rs 2,000 per hour
Locations
MG Road
Koramangala, Next to the forum
Koramangala, 5thblock
HSR Layout, Sector 6
HSR Layout, 27th Main Road
HSR Layout, Silk Board
Contact Details
Links of all workspaces: https://bhiveworkspace.com/pricing/
Phone: 9538677774
Email: [email protected]
7. WorkFlo by Oyo (Innova8)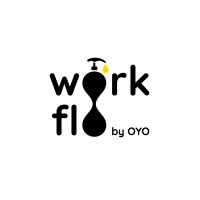 The hospitality chain Oyo entered the managed workspaces market in India after their takeover of Innov8 in 2019.
Workflo by Oyo,located at the heart of the city's bustling corporate hub, offers an economical coworking solution.
The comfortable furnishings and flexible workstation options make the ideation process easier and motivate teams by making them feel inspired in a beautiful, creative environment.
It is one of the best and supportive coworking spaces in Bangalore that can take your business to a whole new level with collaboration and the right workspace environment. Not only for startups and entrepreneurs, but this coworking space in Bengaluru is also optimal for people from all walks of life.
Some of the amenities at WorkFlo by Oyo include:
High-speed WiFI
Onsite Staffand Cleaning Services
Unique Common Areas
CCTV Cameras for security
All-day Tea/ Coffee
Centralized AC to make you feel right at home
Breakout Zones with bold artwork, pool table, foosball, etc. designed for creativity, comfort, and productivity
Nap rooms
Dedicated Cafeteria serving Food and Beverages
Car Parking facility
Printer/Copiers
Pricing
Workflobt Oyo provides some of the most economical coworking spaces in Bangalore. As per your requirements, the pricing is as follows:
Fixed Desk available at Rs 4,499 and Rs 6,499 per month
Flexi Pass available at Rs 2,499 per month
Meeting Room available at Rs 400 per hour
Private Cabin available at Rs 5,599 and Rs 8,099 per month
Multi-utility spaces available at Rs 2,000 per hour
Location(s)
WorkfloUmiya Emporium, Koramangala
WorkfloRanka Junction, Old Madras Road
Contact Details
Links of all workspaces: https://www.innov8.work/office-space/bangalore/
Phone: 9999466688
Email: [email protected]
8. iKeva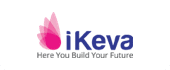 iKeva is a friendly, fully-equipped, state-of-the-art facility that offers various community benefits to its members.
Membership in the community guarantees advantages that can be enjoyed at any iKevaoffice space in the country.
The warm and lively decor of the coworking spaces supports both relaxation and creative thinking. They have played a significant role in establishing the concept of serviced offices and coworking places.
Plus, their professional setup with 24/7 staff ensures that you make the most of your work time.
Some of the Amenities at iKeva include:
High-SpeedWiFi with IT Support
Power backup
Plug and play office space solutions
Access to Meeting Room, Printing, and Concierge Services
Access to Hot Tea and Coffee
Can be Hired from Half Hour Onwards
Multi-location access
Work around the clock with 24/7 access to the facility
Professionally Managed Reception with Housekeeping and Security
Personalized mail services
Pricing
iKevahas a variety ofcoworking space plans. These include:
Dedicated Desks available at Rs 9,500 per month
Collaborative (for individuals and teams) available at Rs 8,500 per month
Collaborative desks Night Owl (7PM to 8AM) available at Rs 3,000 per month
Coworking desk Mobile (9 AM to 9 PM) available at Rs 3,500 per month
Coworking desk Mobile Plus (same as coworking desk Mobile + 10 hours of meeting access) available at Rs 6,000 per month
Location
Marathahalli-Outer Ring Road
MG Road
Contact Details
Links of all workspaces: https://www.ikeva.com/locations/bangalore/
Phone: 8067577899
Email: [email protected]
9. Workshala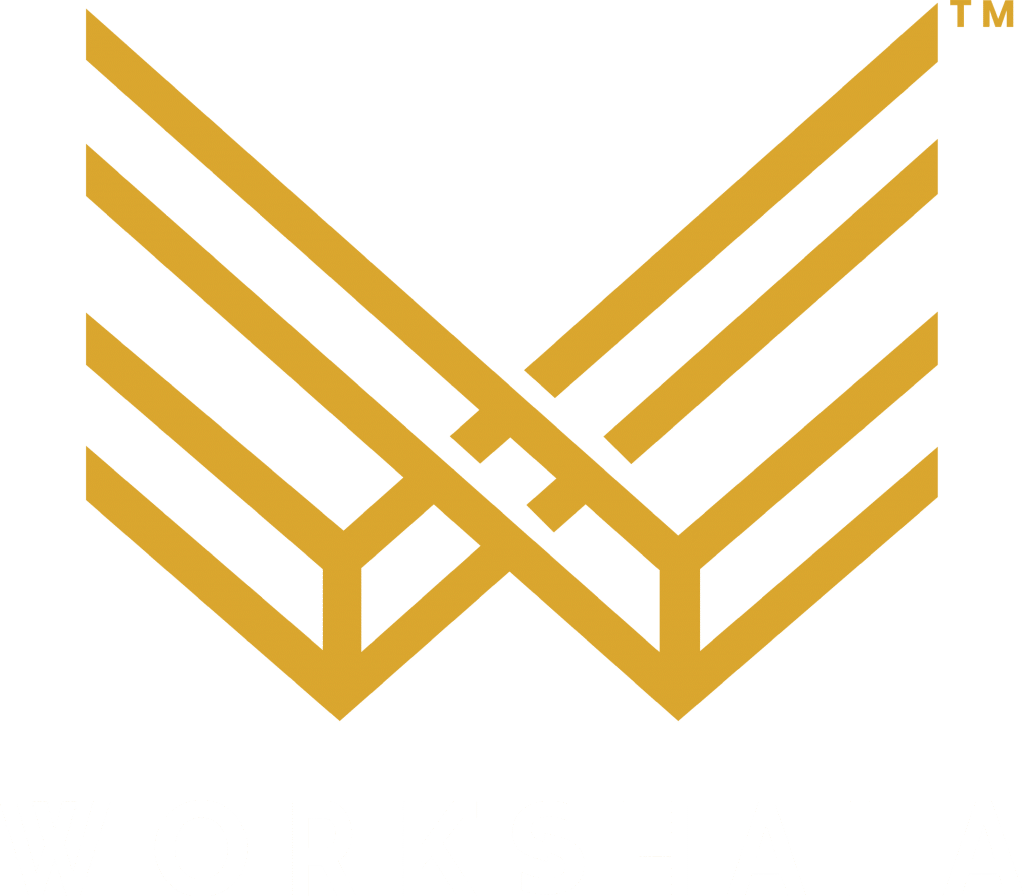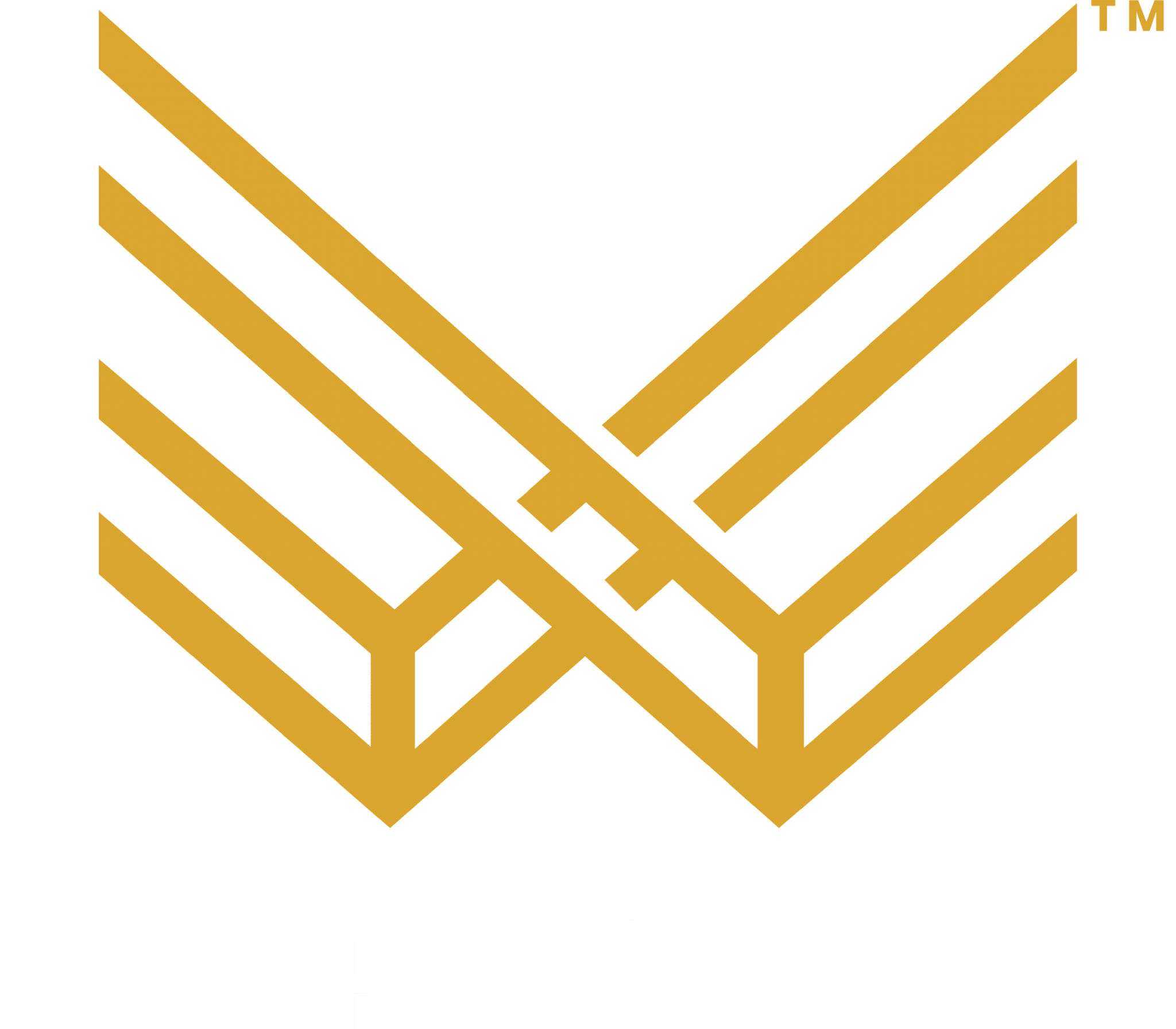 Workshaala is a vibrant, customized coworking space for the brightest minds, growing ideas & enterprising.
Workshaala's coworking spaces provide best-in-class amenities, transparency of being innovative, and flexibility of work timings.
Regular Events allow networking access within the community, in addition to an opportunity of connecting with investors.
Moreover, the office spaces are customizable depending on your needs.
Apart from being available at satisfactory prices,
High-SpeedWiFi
Workshaala Services interface
Virtual receptionistand Office Support Services
Private Cabin Work Desk
Reception
UPS availability
Multi-Layer Security
Unlimited Free Conference Rooms
Cafeteria
Incubation Support
Pricing
Workshaalahas a variety ofcoworking space plans. These include:
Hot Desk (Flexi) starting at Rs 5,099 per month
Customized independent cabins (3 seaters) starting at Rs 18,000 per month
Private Office Space starting from Rs 7,000 Rs 10,000 per month per seat
Conference Room ranging from Rs 450 to Rs 600 per day per seat
Student Package at Rs 200 per day
Locations
There are 12 Workshaala sites(2 more comings), including 3 Coworking spaces in HSR Layout. The locations are:
Sector 3, HSR Layout
Sector 4, HSR Layout
Sector 6, HSR Layout
Ejipura
Jakkasandra, Koramangala
20th Main Road, Koramangala
Hosur Road, Koramangala
306 Binnamangala, Indiranagar
3rd floor, 82-1-838/1 Binnamangala, Indiranagar
Ashok Nagar, Central Business District
Kadubeesanahalli, Outer Ring Road
Nagawara, Hebbal
Contact Details
Links of all workspaces: https://workshaala.com/
Phone: 9916444875
Email: [email protected]
10. Evoma

Evoma is one of the most efficient coworking spacesin Bangalore.
Their convenient and beautifully designed workplaces bring the best out of people by igniting their dreams.
The services and facilities you get at Evomaare second to none. The support team ensures there are no office setup hassle and delays.
The community of entrepreneurs provides an excellent opportunity to network and grow your business.
Evoma serviced office facilities include
High-Speed WiFi
Reception
Cafeteria and Pantry
24-hour access to your office space in Bangalore
24-hour security and maintenance
Staffed reception for handling calls and visitors
UPS with generator power backup
Lounge, Meeting rooms, Board room access
Multi-level parking with zero wait time
Daily housekeeping
Pricing
At Evoma, you will have many options to choose a suitable coworking space for yourself or your team.
Get in touch with them to know about the price and other details.
Locations
Marathahalli
KR Puram
Borewell Road, Whitefield
EPIP Zone
Contact Details
Links of all workspaces: https://evoma.com/get-an-office/
Phone: 8041903000
Email: [email protected]
11. SparkPlugCoworks
SparkPlug is the new kid on the block with a creative, quirky, and inspiring coworking space inKoramangala, the heart of Bangalore.
Their modern designs strike a perfect balance to bring out the best in people. Moreover, the cooperative staff ensures that every community member can work to their best of the abilities.
There are parties, game nights, and other events held in this space, allowing you to network and socialize with other people in the community.
Some of their Amenities include:
High-Speed WiFi
Availability of Standing desks
Lounge and Chillout zones
Kitchen
Free Coffee and Tea
Free parking
Access to Printer
Conference rooms
Power backup
Access to Startup support
Personalization
Try out the workspace for a day for free.
Pricing
SparkPlughas a variety ofcoworking space plans. These include:
Hot Desk (Open Plan Seating) available at Rs 5,999 per month
Dedicated Desk available at Rs 6,499 per month
Private Office starting at Rs 6,999 per month
Meeting Room at Rs 299 per hour
Location
100 Feet Road, Koramangala
Contact Details
Links of all workspaces: https://sparkplug.work/pricing/
Phone: 8296577773
Email: [email protected]
Conclusion
This was our list of coworking spaces in Bangalore.
The typical way of buying or renting office space at premium locations is not the way to go now. That concept is ancient.
On the other hand, for survival and sustenance, coworking is the new and efficient way forward.
The idea of people sharing an office workspace to work independently or as a team, allowing cost savings through shared infrastructure and other facilities, is the way to go.
There are no doubts about the benefits of a coworking office space on the bank balance of a business. Moreover, the community you meet and interact with, that's priceless.
In this article, you got to see 11 of Bangalore's best coworking spaces, their prices, locations, and special amenities.Now it's time to know which one of these is your favorite.
Comment below and let us know which coworking space you think is the most suitable for you and your team. Are there any other cool coworking spaces we missed out on? Comment and let us know.
Also Read: 7 Best Books on Writing That Will Inspire You to Write