Are you someone who is looking out for Digital marketing courses but confused about which institutes to opt-in to?
I must say that you are fortunate because I have found a list of the 10 Best Digital Marketing courses in Pune that provide you placements for sure.
But did you know? 40% of the world's total population is shifting their careers to Digital Marketing! The competition is growing high.
I'm sure you are looking out for a Digital Marketing job too that brought you to this article.
Before that, I want to tell you if you are learning Digital Marketing only because you are going to get placements, then it's not the best option for you because you will never be ready to "learn"; instead, you will just see it as a medium to land jobs.
If it comforts you, let me tell you that it is entirely okay to do that; I have also done it during my initial days. 87% of people enroll for a course at an institute just because they want to land placements and not learn and upgrade their skills.
But allow me to share a secret that has helped me survive and thrive in the Digital Marketing field.
You need to expertise yourself in one skill! ONE SKILL!!
Yes!! You heard it right.
The fastest way to fail when starting is to be a 'One-stop-shop.'
People take up a Digital Marketing course and then get placed and update their resumes with the term 'Digital Marketing Consultant/Specialist.'
While there is nothing wrong with it, this approach has a few problems.
The main problem is you are not specialized and don't master any particular skill that can benefit your organization in any way.
Before I tell you the names of the best digital marketing course institutes in Pune, I want to make sure that you know the right approach to positioning yourself in the market.
So in this article, I will also be talking about how you should decide which profile and aspect of Digital Marketing are the best for you.
Go Niche.
A Niche is a submarket in the vast market.
Do you think a specialist doctor (Like an ENT) has a better positioning in the market rather than a regular doctor?
Absolutely! Going Niche is nothing but choosing the right market for you.
It is not wise for you to go around and tell a company that you are interested in serving every kind of industry with all the services of Digital Marketing.
The idea here is to filter out and be an expert only in the selected industry.
Let me make it easier by sharing an example – "I serve only to the Chinese restaurants in Mumbai" can be a great niche.
Choose a Skill.
Don't even think to go out there and apply for jobs unless you know which part of Digital marketing you want to specialize in and would love to do.
You can never tell an interviewer that you are okay with doing any role in Digital marketing.
While it may or may not work, I'm sure that rather than upskilling yourself in the job, you'll exhaust and stress yourself having to do multiple things.
The best way is to pick up a skill in the Digital marketing field and only apply and stick to that kind of role.
Example – a) "I'm a Content Writer and SEO Specialist."
b) "I'm a Paid Ads Specialist."
c) "I'm an Email Marketing and automation expert."
d) "Web designing and developing is my forte."
Interesting, isn't it? I'm telling you to narrow down your options and widen the opportunities.
Build a portfolio
You need to have the credibility to show the world that you can bring in enough results for them, too, if you have done it for yourself in the first place.
This stage is the toughest, and most people give up during the process.
Once you choose the skill you want to work on, Start building up portfolio's enhancing and displaying your results.
If I decide to be a content writer, I will have my WordPress website, Start writing on it and display the results in terms of traffic.
Once you have shown results to your employers/Clients, no one will question your skills or experience. It is more about what skills you have and what outcome you can bring in for them rather than what course you have completed.
Start developing Social Proof.
While making decisions, we look at what other people say about it.
Don't you look for reviews about a particular product before buying it? I'm sure you do! We all are social beings.
Similarly, your potential employers and clients also consider what other people say about your services before hiring you.
Hence, It is wise to collect social proof from people by giving them enough value to recommend you to others.
Now that you know the right mindset of hunting for a job, I'm about to reveal the names of the top digital marketing courses in Pune.
Ready? Here we go!!
10 Best Digital Marketing courses in Pune
1. SCK (SEO Career Kickstarter) Program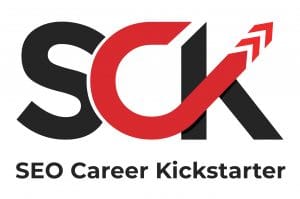 The SEO Career Kickstarter Program (previously known as HIIT SEO) designed by Sanjay Shenoy is a 100% practical online SEO training program that will get you industry ready and help you land your dream SEO job in just 10-weeks.
And the best part? This SEO training program offers a cashback of Rs.10,000 for implementing everything that you learn during the training program. This is intentionally designed this way to motivate people to learn SEO by doing it, rather than just by watching videos of it.
So you need to implement SEO to get your money back. Loved the concept, right? Hold on, let me tell you about the course structure.
Week 1 – Basics of SEO.
Week 2 – Keyword research.
Week 3 – On-page SEO.
Week 4 – Technical SEO Part 1.
Week 5 – Technical SEO Part 2.
Week 6 – Off-page SEO Part 1.
Week 7 – Off-page SEO Part 2.
Week 8 – Local SEO.
Week 9 – Youtube SEO.
Week 10 – SEO Audit, Pitching Strategy, and Proposal. 
Apart from this, you will also learn and become job-ready with
Resume Makeover: Learn how to make the perfect resume in the right format for your SEO job
LinkedIn Profile Optimisation: Build the perfect profile for better connections and opportunities
SEO Interview Prep: Prepare and crack the SEO interview and impress them with your skills
Salary Negotiation: Know your worth and get the salary you deserve
Contact
Email: [email protected]
Apply here: SCK Program
Duration
Seo Career Kickstarter is a 10-week course.
2. Digital Trainee Academy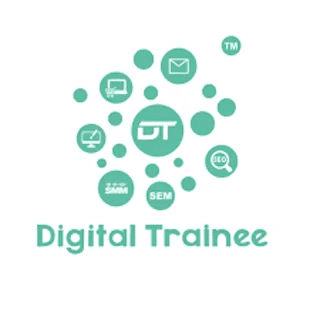 Digital Trainee Academy is a Digital marketing training division of 'Digitize brand.' Their motive is to train potential individuals and shape them into digital marketing professionals.
Mr. Prashant Kodukar founds them in the year 2016 in Pune, India. Digital Trainee is India's first practical training institute; their practical approach helps bridge the gap between theoretical knowledge and the skills required to work in the corporate world.
Their courses are divided into four segments.
Offline training.
Online training.
Digital Marketing Agency training.
Corporate Digital Marketing training.
Curriculum includes –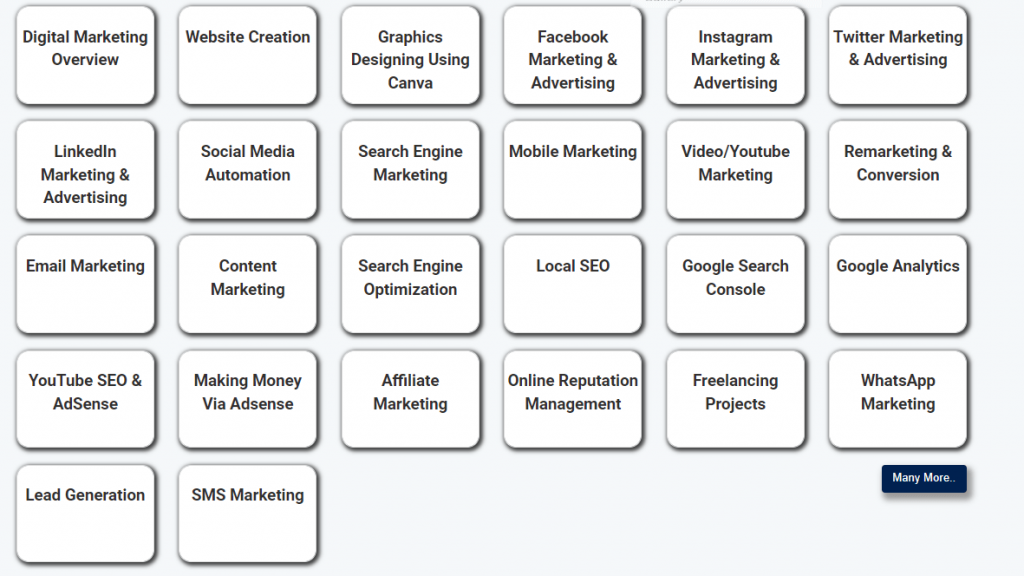 There are 127 company placements at the Digital trainee institutes, including the top MNCs in the world.
Contact details
Address: 2nd Floor, Office No. 203, 204 Siddharth Hall, Near Ranka Jewellers, Behind HP Petrol Pump, Opp to Mahesh Bank, Karve Road, Erandwane, Pune 411004.
Phone numbers: 7249860957 / 8983765316. Viman Nagar, Pune – 8983774747, PCMC, Pune :9168875782, Hadapsar, Pune: 7887567652.
Website: digitaltrainee.com
Email ID:

[email protected]
3. IIDE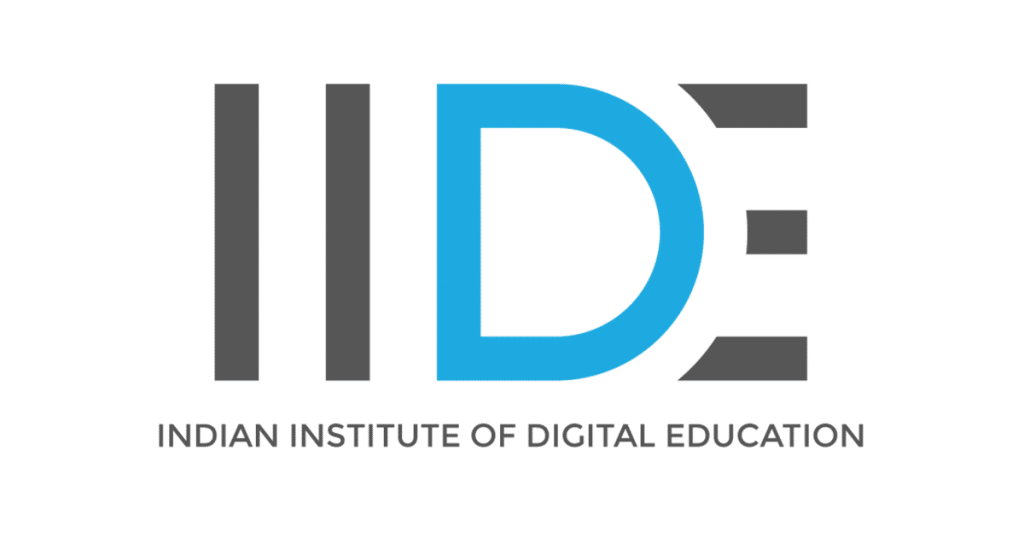 IIDE is India's premier school for digital marketing, and it was founded in 2016 by Mr. Karan Shah. The institute has trained more than 60,000 students online, offline, and on-demand mediums.
Although IIDE does not have a branch in Pune, they welcome students from all over India and provide them with placements.
The Digital Marketing courses offered at IIDE are for four months certification, 11 months MBA Level PG and short-term certificates.
They teach the students in the following structured manner.
Inbound Marketing
Introduction to Digital Marketing.
Website creation.
Search Marketing.
Outbound Marketing
Content Marketing.
Social Media marketing and management.
Video Marketing.
Media Management and Automation
More forms of Digital Marketing.
Integrated Marketing.
Managerial skills and soft skills
Soft skills.
Agency skills.
Compulsory Internship and Thesis
Internship and mentoring.
Certificates from IIDE

Some of the top company recruitments from IIDE
Contact Details
Address: IIDE Campus, 1st Floor, Andheri Girls' Education Society, S. V. Road, Opp. Bank of Baroda, Near GK Gokhale Bridge, Andheri West, Mumbai – 400058.
Phone number: +91 96199 58615.
Email ID:

[email protected]

(Admissions and inquiry)
Website: iide.co
4. PIIDM Institute

Founded by Mr. Vijay Gehlot in 2018, PIIDM's vision and mission are to educate people with the proper knowledge and power of digital marketing and is considered one of the top digital marketing training institutes in Pune.
Courses
SEO course.
Web designing.
Google Ad words.
Social Media marketing.
Graphic designing.
You will receive 15+ Globally recognized certificates from the institute.

Contact Details
Address: 404, Shivank Building, Apte Road, Opt Venus FC Road, Deccan, Pune, Maharashtra 411004.
Phone number: +91-9607355959/ +91-8552077668.
Email ID:

[email protected]

/

[email protected]
Website: piidmpune.com
5. IIM Skills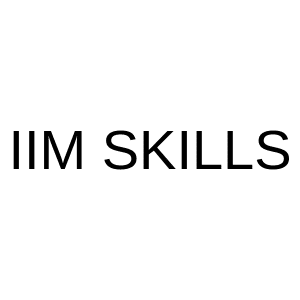 IIM SKILLS Digital Marketing Master course is designed to give you hands-on practical training. Every week you will get an assignment where you will have to implement whatever has been taught to you during the week, and you have to submit that assignment before the next class.
It is one of Pune's and India's best online digital marketing courses. Topics like Web development, SEO, SMM, Email Marketing are taught during the program.
Mr. Vaibhav Khakkar founded the institute in 2015 and has trained over 15,000+ professionals from 45+ countries.
IIM Skills offers Content Writing courses, Technical writing courses, Digital Marketing courses, Advanced SEO courses, and GST practitioner courses.
You also get to use the tools required for Digital marketing, such as
But that's not all! IIM Skills also provides you with placement assistance and provides you with many methods and tricks that make it easier for you to land a high-paying job.
Contact Details
Address: No. 5, Survey No. 167 Lane, Manjri Rd, near Durga Mata Mandir, Mahadeonagar, Hadapsar, Pune, Maharashtra 411028.
Phone number: + (91) 99 11 839503
Email ID: [email protected]
Website: iimskills.com
6. Academy of Digital Marketing, Pune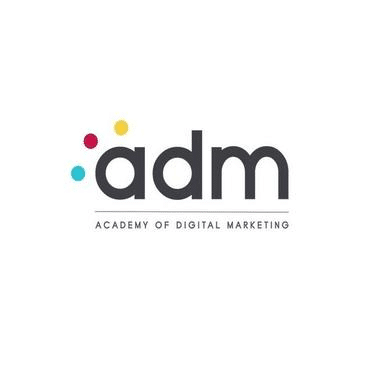 This Pune-based Digital marketing institute provides career-oriented courses to working professionals and students and consists of two different types of classes for each category of customers.
They provide the following courses.
Lead generation course for Business owners.
Social Media marketing.
Search Engine Marketing (PPC).
Blogging and Affiliate Marketing.
Search Engine Optimization.
Paid Marketing (Facebook, Instagram, LinkedIn, Google).
Web development.
ADM provides 100% job assistance and certificates upon completion of their courses.
They just have a few students per batch, hence you will get personal attention.
You will also get to master various tools such as.
Contact Details.
Address: 202, Nyati Eureka, Near To Columbia Asia Hospital, Kharadi Bypass Road, Kharadi, Thite Nagar, Kharadi, Pune, Maharashtra – 411014.
Phone number: 070302 35214.
Email ID: [email protected]
Website: https://www.admindia.org/
7. Alive Digital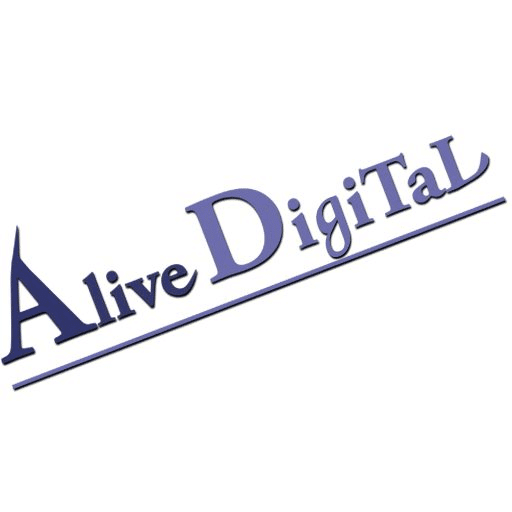 The Alive Digital institute help students with learning Digital marketing practically. It is designed in a way to optimize it during real-life scenarios.
It is yet another elite digital marketing training institute in Pune having experience of 5 years.
Five hundred students have enrolled with them already, out of which 60 have been placed in top MNC companies. 33 Batches have been completed, and it is one of the few training institutes that conduct Corporate training.
They offer the following courses, which can help with structured learning.
Complete Digital Marketing program.
Fast track Digital Marketing program.
Facebook Marketing.
Best Digital Marketing training in India.
A glimpse of the things you will be learning in their programs.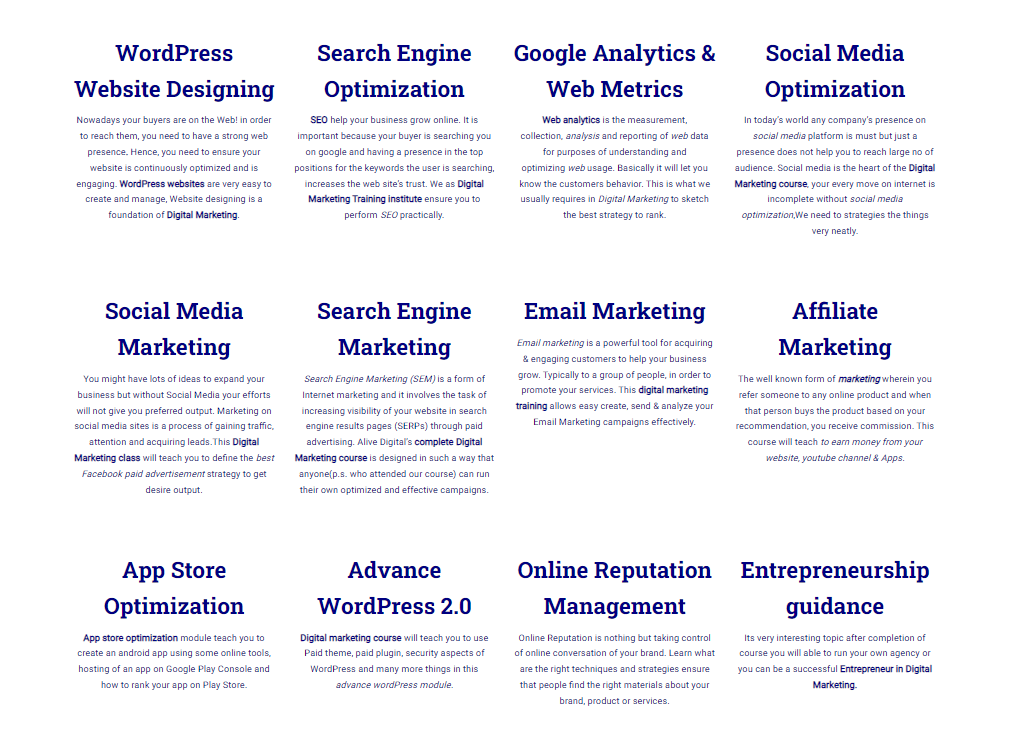 You will get 100% practical digital marketing training + Work on Live projects + placement assistance.
Contact Details
Address: Office Number 606, Nandan Probiz, Laxman Nagar, Near MITCON International, Backside of High Street, Baner, Pune-411045.
Phone number: +91-9607263666.
Email ID: [email protected]
Website: alivedigital.in
8. SIM Pune School of Internet Marketing.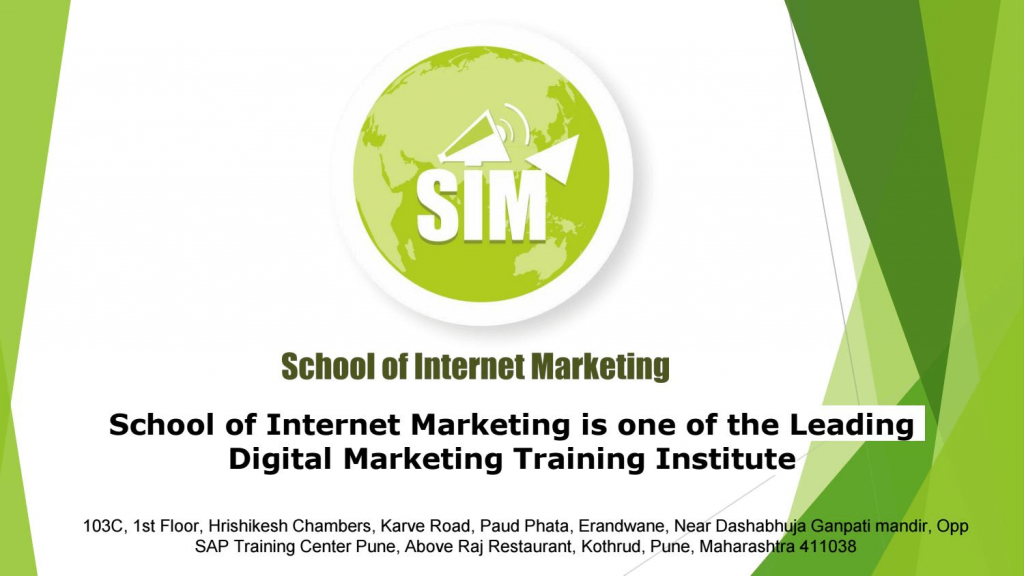 SIM is the leading digital marketing institute in Pune, where most of the faculty members are Google certified industry specialists in marketing for the small and medium businesses focusing on Digital Advertising.
The courses consist of the subjects.
Digital Marketing mastery program.
Graphic designing course.
Website designing course.
You will learn SEO, Website Planning, Local SEO, SEM/PPC Keyword research, SMM, Google search console, Google Analytics, Google Ad-sense, Affiliate marketing, Email marketing, Online reputation management.
Contact Details
Address: School Of Internet Marketing
1st Floor, Hrishikesh Chambers, Nal Stop Paud Phata, Opp Atos SAP Training, Above Raj Restaurant, Karve Rd, Erandwane, Pune, Maharashtra 411004.
Phone number: +91 7559269777.
Email ID: [email protected].
Website: schoolofinternetmarketing.co.in
9. MIDM (Masters in Digital Marketing)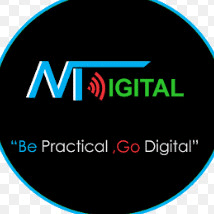 "Made by love and passion" is the principle that MIDM works on. As the name says, the institute focuses on building the strength within the mindset of an individual to understand Digital marketing and also to implement it.
MIDM is one of the best digital marketing course institutes in Pune with 100% job assistance specializing in digital marketing, Web design and development, Ethical hacking, and graphic designing modules.
What will you learn from MIDM?
Digital Marketing.
Google PPC.
Advanced SEO training.
SMO/SMM Training.
SEM Training.
Marketing Strategist.
Affiliate Marketing.
Email Marketing.
Mobile Marketing.
Live Training project.
Advanced Marketing workshop.
Website building.
Lead generation for a business.
Internship training.
Earn from home.
Freelance project workshop.
Contact Details
Address: MIDM – Satara road branch/ 56/2 B-4 Saisadan Santnagar, Aranyeshwar Opposite Eduneed Mall, Santnagar Parvati Paytha, Pune, Maharashtra 411009.
Phone number: +91 – 9011073741/ +91 – 8412037393/ +91 – 7757004953.
Email ID: [email protected]/ [email protected].
Website: www.midm.co.in
10. Optimized Infotech, Pune.

Optimized Infotech, Pune is a firm that offers IT and Training services to B2B and B2C clients, founded by Mr. Milind Morey in 2011 but tending to these services for the last five years. Optimized Infotech's primary business goal is to help B2B sectors with consultation services to accomplish their desired results.
Its Advanced SEO course has a guaranteed 100% placement assistance for all the students.
If you require more information on SEO, You can read my article What the duck is SEO & How does it work?
What will you learn?
SEO.
SEM.
SMO.
Digital Marketing skills with strategy building.
You will learn from a Google certified trainer and work on a live project.
Contact Details
Address: Office No. 203, Above "SUBWAY" Sairam Building, Near Vanaz Company, Paud Road, Kothrud Pune 411038.
Phone number: 8007122500 | 8007122667.
Email ID: [email protected]
Website: optimizedinfotech.com
11. Digital Vidya

Co-founded by Mr. Pradeep Chopra, Digital Vidya started delivering Social Media training workshops across India in 2009, which became a huge success, and in 2013 the first entire Digital Marketing course was launched.
The excellent quality of training provided by the institute has led to a partnership with Google, Microsoft, LinkedIn, Facebook, Vskills, and Nasscom.
Course Syllabus (Executive program in Digital Marketing)
Month 1 – Understanding the Digital Marketing landscape and creating your online presence.
Month 2 – Digital Marketing for brands, Social Media Marketing and, SEO techniques.
Month 3 – Digital Marketing strategy and leveraging Email Marketing.
Month 4 – Increase brand visibility by Google Ads and understanding Google Analytics.
Month 5 – Inbound marketing and leadership insights.
Month 6 – Insights into Content marketing and Affiliate marketing.
Month 7 – Begin with your internship and strategize Digital Marketing.
Month 8 – Getting industry-ready and Facebook Ads.
Month 9 – Youtube and Whatsapp marketing.
Month 10 – Award yourself with the wall of certificates.
The duration of the course will be ten months. Many certifications are offered after you complete the program that highlights your competencies in Digital Marketing.
Top companies which recruit the Alumni of the program
Contact Details
Address: 31, Cloud 9, NIBM Road, Pune Maharashtra – 411060.
Phone number: +91-9870310284/ 080100 33033.
Email ID:

[email protected]

.
Website: www.digitalvidya.com.
Conclusion
Did you love it? In the era of Digitalization, you need to upgrade yourself with skills and a portfolio. Getting a job will be a piece of cake. I wouldn't recommend you to do a free digital marketing course in Pune or any other place in that matter because you will lack the motivation to complete it.
But I will repeat it for you, Do not learn digital marketing just because of the placements. Even if you land a job, you may not have the skills to bring in results for your organization because you have not implemented the techniques.
The important thing is to learn all the aspects of Digital Marketing from any institute, pick up a specific skill, work on it and showcase the results.
You have questions as to why I didn't include the prices of these programs in the article because COVID has changed the pricing system of every educational institute, so you need to contact them and check out the revised pricing.
Now, It's your turn to pick up an institute and embark on the journey of upgrading your skills to land high-paying employment.
Do you know of any other top digital marketing courses in Pune that I might have missed out on? Let me know in the comments.
List of Digital Marketing Courses in other Cities
Digital Marketing Courses in Chandigarh
Digital Marketing Courses in Delhi
Digital Marketing Courses in Lucknow
Digital Marketing Courses in Mumbai
Digital Marketing Courses in Bangalore
Digital Marketing Courses in Kochi
Digital Marketing Courses in Jaipur
Digital Marketing Courses in Chennai
Digital Marketing Courses in Ahmedabad
Digital Marketing Courses in Hyderabad
​​Digital Marketing Courses in Jodhpur
Digital Marketing Courses in Kanpur
Digital Marketing Courses in Nagpur
Digital Marketing Courses in Kolkata
Digital Marketing Courses in Thane
Digital Marketing Courses in Ajmer
Digital Marketing Courses in Gurgaon
Digital Marketing Courses in Dehradun
Digital Marketing Courses in Coimbatore
Digital Marketing Courses in Bhubaneswar
Digital Marketing Courses in Jalandhar
Digital Marketing Courses in Amritsar
Digital Marketing Courses in Kolhapur