The value of the digital marketing industry will grow to a massive INR-225 billion mark by the year 2023, consequently producing more than 20 lakh jobs.
It is the fastest-growing career in India and the rest of the world. The world is changing from traditional marketing to digital marketing for an extra edge, whether corporate giants or small industries.
Digital marketing is entirely a non-technical subject that anyone can learn easily. The demand for professionals in the digital marketing field is exceeding the supply and, this gap is creating ample job opportunities for both technical and non-technical graduates and professionals.
Who can learn digital marketing?
Digital marketing is nothing but marketing albeit in a bigger kingdom. Bigger than your lane, locality, and even your city. Think global! People from all fields need digital marketing whether it is healthcare, food industry, entertainment, law firms, education, you name it. If you are reading this article, then you do too.
The field needs passionate creative, innovative aspirants. Broadly speaking let me categorize it as follows.
Students – Digital marketing industry offers fresh job opportunities for graduates and digital marketing certification on your resume will definitely enhance your portfolio.
Entrepreneurs/ Business Owners: If you are looking to grow your business to the next level, you can pursue digital marketing courses and beat your competitors in the game by implementing creative digital marketing strategies.
Homemakers: If you are a homemaker looking for new opportunities to do something productive in your free time and earn from the comforts of your home, digital marketing is for you as you have many opportunities as freelancers, affiliate marketers, and other online businesses.
Marketing / Sales Professionals: Digital marketing is proving to be a gold mine for marketing professionals enabling to quickly multiply leads and boost business online through various channels.
Brands: Creating brand awareness in the digital universe is the first step to establish yourself, and a well excuted digital marketing strategy helps you connect individually with your customers and brings about outstanding brand awareness.
Startups: Digital marketing is cost effective and lucrative. If you are startup, digital marketing can be at a much lower cost than traditional methods. It allows you to make new clients and build relationships at a fraction of the investment you would make for traditional marketing methods.
Small businesses: Well, because it is a small business. Digital marketing can drastically change the face of your business and scale up.
Bloggers/Vloggers: Since you are already familiar with the ways of the internet, all you now need is to use the platform effectively drive traffic and create engaging content.
If you are one of the above or anyone who wants to upskill yourself for a career in the digital marketing industry, your search ends here.
12 BEST DIGITAL MARKETING COURSES IN BANGALORE
1. SCK (SEO Career Kickstarter) Program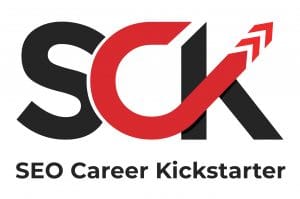 The SCK (SEO Career Kickstarter) Program, designed by Sanjay Shenoy is a 10-week online training program for SEO. It's 100% practical where you will be working on a real project site.
And the best part? The program offers a cashback of Rs.10,000 for implementing everything that you learn during the training program. This is intentionally designed this way to motivate people to learn SEO by doing it, rather than just watching it. No wonder this program has an 85% completion and implementation rate with an average rating of 4.8 out of 5.
Here is exactly what you will be learning as part of the program:
Week 1 – Basics of SEO – Understand how search engines work using the R-A-U framework to understand all the ranking signals that Google uses, creating the right foundation for your SEO journey.
Week 2 – Keyword Research -You will be learning how to to find high-value, easy to rank keywords using the counterintuitive ToFu method that will help you rank for these keywords even without backlinks & expensive keyword research tools. You will also be learning the 6 Step content framework that will help you write epic SEO optimized content.
Week 3 – OnPage SEO – You will get the ultimate tried and tested 18-point OnPage cheat sheet (plus a bonus worth Rs. 5000) to make sure your OnPage SEO is on point! You will also learn how to write award-winning titles and intriguing introductions for your content.
Week 4 – Technical SEO Part 1 – Learn how to nail site architecture and think like a search engine. You will also learn the language of the crawlers and use robots.txt to communicate plus learn everything about mobile SEO and implementing AMP on your website.
Week 5 – Technical SEO Part 2 – You will learn how to make your website blazing fast improve your Google Page Speed insights score the right way. You will also be learning about structured data, SSL certificates, and optimising for voice SEO.
Week 6 – OffPage SEO Part 1 – In this week, you will learn what a backlink is and how it backlinks made Google the number 1 search engine in the world. You will also be learning about the difference between a dofollow and a nofollow link and a step-by-step guide to building your first set of high-quality backlinks.
Week 7 – OffPage SEO Part 2 – Continuing from week 6, you will be learning about the importance of anchor text and the 4 crucial ways in which you should be building backlinks and uncovering the best source to find backlinking opportunities.
Week 8 – Local SEO – You will learn what Local SEO is and why it is the most underrated channel in SEO. You will also learn how to set up and optimise your Google My Business profile using NAPs.
Week 9 – YouTube SEO – How can we not talk about the second biggest search engine in the world, YouTube when we are talking about SEO? You will learn the 9 critical YouTube ranking factors, the 4 simplest ways in which you can start making videos, and how to upload and optimise videos to rank both on Youtube and on Google.
Week 10 – Site Audit, Strategy, and Proposal – Learn how to perform a complete site audit from scratch and craft a realistic SEO strategy. You will also learn how to price your SEO services and manage your SEO project without getting overwhelmed.
Since learning SEO involves using a lot of tools and resources, when you sign up for this program you will also get SEO tools and resources worth Rs. 71,250. Here is a list of SEO tools and resources you will be getting when you sign up for this program:
Astra Pro high performance WordPress theme worth Rs. 17,000
WP Rocket premium WordPress performance plugin worth Rs. 18,000
WPX hosting, the world's best and fastest SEO optimised hosting worth Rs. 5,250
Rankmath Pro WordPress SEO plugin worth Rs. 5,000
Ultimate SEO playbook course worth Rs. 10,000
Content Marketing Mastery course worth Rs. 10,000
Exclusive list of 1000+ High Authority Domains to create backlinks worth Rs. 10,000
The course has helped over 500 SEO aspirants land high-paying jobs, close high-ticket clients, generate revenue for their businesses, and also earn passive income through affiliate marketing. You can gain expansive knowledge of SEO in ten weeks while you earn rewards in the form of cashback for taking action. Unlike other SEO courses, you learn not just by listening to classes, but also by implementing it yourself along the way.
Contact Details
Location: Online
Email: [email protected]
Apply here: SCK Program
2. DIGITAL KORA
Digital Kora is one of the best digital marketing institutes in Bangalore. They have been providing training since 2013 and include weekday, weekend as well as online batches. They are tied up with many companies and ensure 100% placement support.
If you are looking for the best digital marketing course near Marathahalli, BTM, Hebbal, Electronic City, Kammanahalli, Indira Nagar, Digital Kora is the place for you.
What you can learn here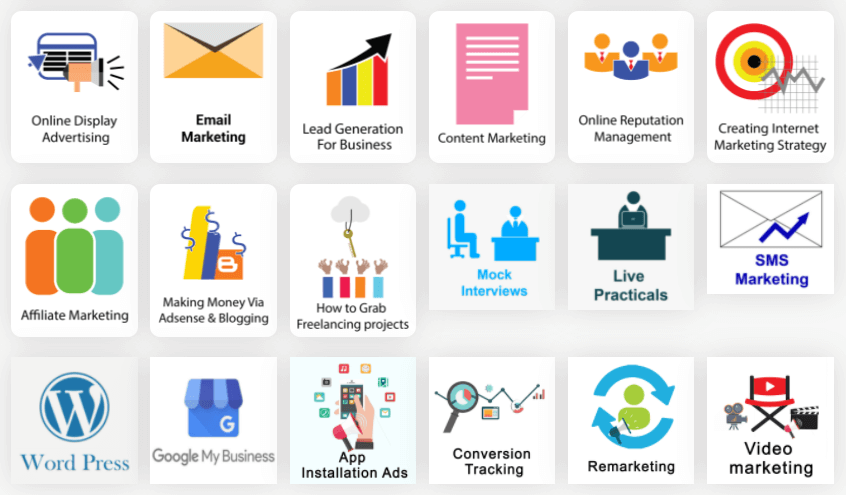 Contact Details
To know more about the course and fee structure you can contact them here.
Ground Floor, Next to RVE Technologies,
Opp. To Water Tank, Bengaluru -560029.
Call: +91 88678 96632, +91 89716 42632
Mail: [email protected]
3. DIGITAL ACADEMY 360
Digital Academy 360 comprises of digital marketing professions who have more than ten years of experience in industry-based live projects. The institute founded by Mr.Yogesh Shashi in the year 2015 went on to be awarded as the "Best Digital Learning Institute" of the year 2019 by the Indian Education Awards. They provide quality and industry standard-based training at affordable costs.
The training courses are made up of a detailed curriculum where there is practical training, project assessment and downloadable resources from the trainers. They guarantee 100% placements or refund of fees.
They have several centers in Bangalore in different locations like Jayanagar, Malleshwaram, HSR Layout, Hebbal, Anna Nagar, Velachery, and also in Chennai and Mysore.
What you can learn here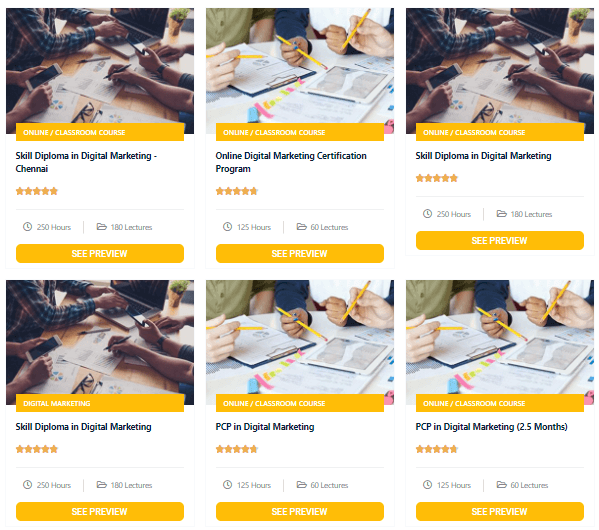 Contact Details
Address: Yogesh Shashi Learning Pvt. Ltd.
#5, 41st Cross, 22nd Main Road,
Jayanagar 9th Block, Bengaluru – 560069
Call: +91 7353515515, +91 7019432610
Mail: [email protected]
https://digitalacademy360.com/
4. NATIONAL INSTITUTE OF DIGITAL MARKETING
NIDM is one of the leading Digital Marketing Institutes in Bangalore and it was founded in the year 2011 by Mr.M.S.Kumar, the top Digital marketing faculty. Under his leadership, the institute that has trainees from Deloitte, HP, Simplilearn, ThinkVidya, PWC, Marlabs, Myntra and Flipkart, has trained over 20,000+ students from across 20+ countries in 2100+ batches.
The courses offered by the institute accommodate the latest digital marketing trends in the industry and are on par with Google standards. Dynamic Digital Marketing Programme designed by the founder himself is their pet program which enables you to explore every pinpoint of digital marketing. They also provide paid internships, 100% placement and lifetime assistance for alumni.
What you can learn here
Dynamic digital marketing
Hybrid digital marketing
Advance digital Marketing
Social Media Marketing
Search Engine Marketing
Web Designing
Search Engine Optimization
WordPress
Web Designing
Contact Details
Address: #152, 13th Main,
1st Cross, BTM Layout, 1st Stage,
Near Udupi Garden Signal,
Bengaluru – 560068.
Contact: +91 9611361147
Mail: [email protected], [email protected]
5. OMIT – DIGITAL MARKETING COURSES -Online Marketing Institute and Training
OMiT is one of the best digital marketing courses in Bangalore. They offer cutting-edge, up to date and immersive digital marketing courses designed by industry experts and tailor-made to cater to entrepreneurs, solopreneurs, job aspirants and corporate companies.
The courses are customized modules that come with professional certification which not only enable students to stay ahead in the market but also enhance their portfolios.
OMIT has partnered with over 50 leading companies like Bosch, Purvankara, Blue Ocean, Biomedical and INSZoom, they have also assisted several MNCs and Corporate companies in training their employees to tackle and efficiently navigate through digital marketing platforms. They have branches in Koramangala, J.P Nagar, Basaveshwar Nagar of Bangalore and also in Mysore and Bhubaneshwar.
What you can learn here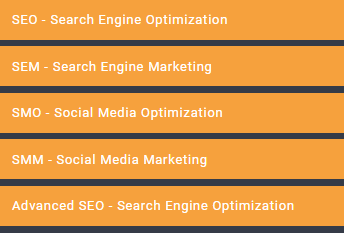 Contact Details
Koramangala Branch
2nd Floor, 314/B, 20th Main,
8th Block, 80 feet Road,
Koramangala 8th Block, Bengaluru-560095
Call: +91 8105824987
Mail: [email protected]
6. LEARN DIGITAL ACADEMY
Lear Digital Academy is a training institute dedicated to providing a comprehensive learning experience starting with training, certification, internships and placements.
They provide quality education following a goal-oriented curriculum through live projects and coursework that can be put to practice in the real job environment. They offer classroom, scheduled as well as self-paced e-learning courses to integrate into your work or college schedules. You do not need to compromise on your obligations while upskilling yourself for a better career.
What you can learn here
Search Engine Optimization
Email Marketing
Pay per click
Ecommerce
Social Media Marketing
Content writing and Editing
Analytics
Web design and development
Mobile Marketing
Contact Details
J P Nagar Branch
#09, Govindappa Building,
2nd Floor, 1st Main, 1st Cross,
J.P. Nagar, 4th Phase, Near Delmia Circle,
Bengaluru – 560078
Call: +91 6366370046
Mail: [email protected]
7. WEB MARKETING ACADEMY (WMA India)
Web marketing Academy is a top-rated digital marketing institute endorsed by Christ University and official partner of IIM Bangalore Digital Marketing Workshop.
The academy was founded by Suresh Babu in 2002 with a passion for digital and social media marketing and the need for training in internet marketing and has also helped some of the leading companies of the world to maximize profitability through digital marketing media.
Their objective is to empower the next generation leaders in the digital transformation equipping them with skills and expertise. They provide customized hands-on one-on-one training programs and workshops for businesses, brands, start-ups and MNCs.
What you can learn here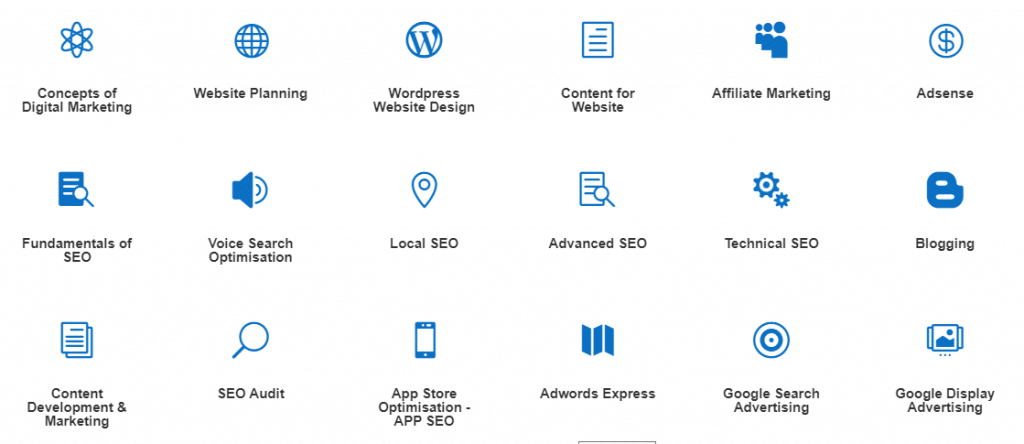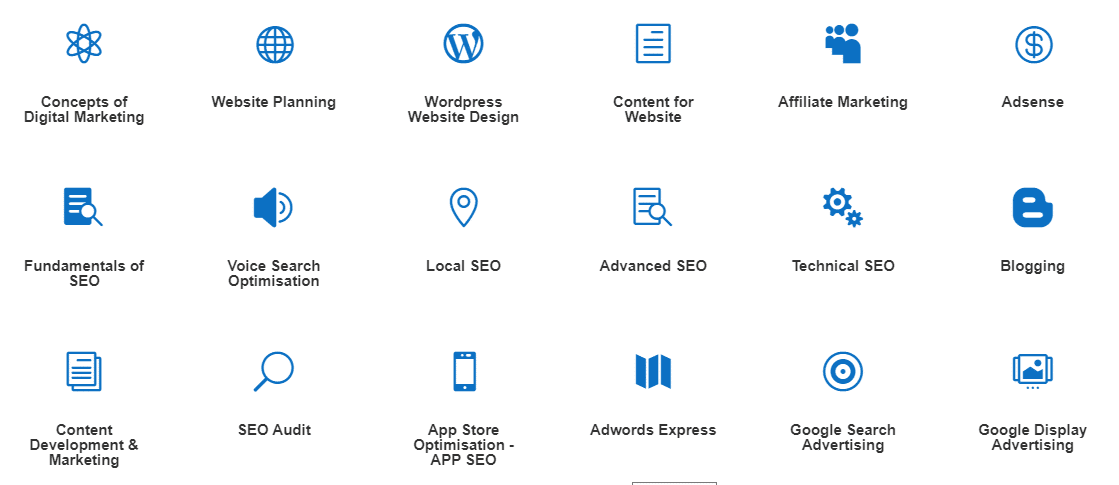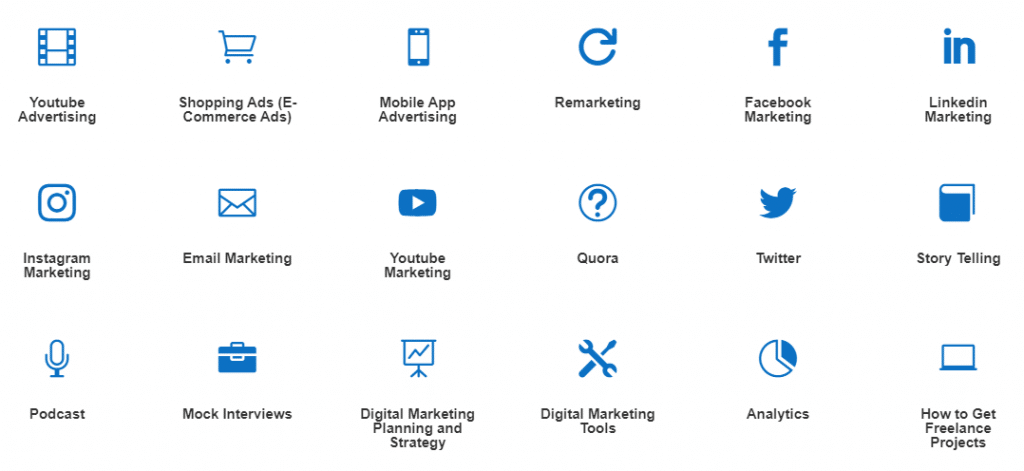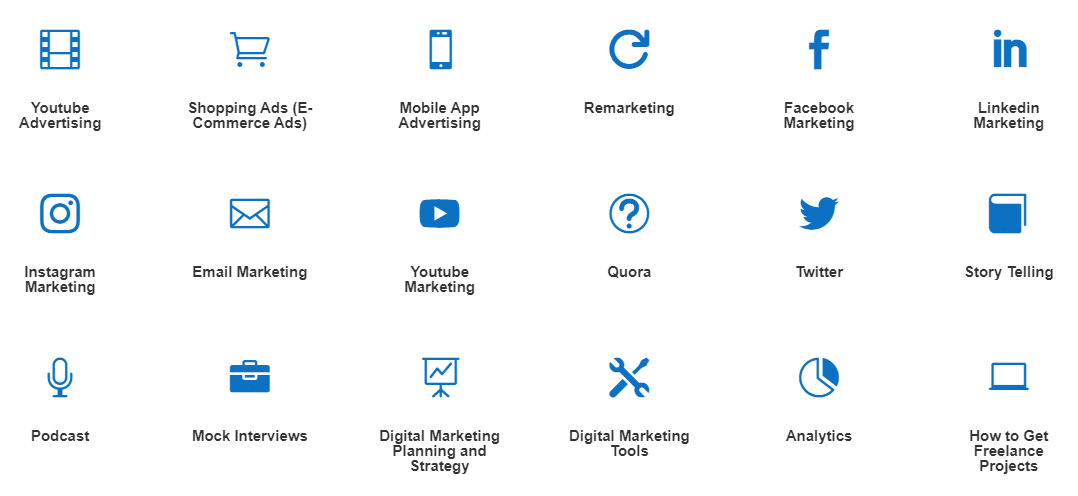 Contact Details
Indira Nagar Branch
#1003, Ground Floor,
12th A Main Road, 2nd Cross Road,
Doopanahalli, Behind Sony Center and Gold's Gym,
100 feet Road, Indira Nagar, Bengaluru- 560008
Call: +91 8792299538
Mail: [email protected]
https://www.webmarketingacademy.in/
8. EMARKET EDUCATION
Founded by Rajan Jena in 2014, eMarket Educations has been imparting one of the best integrated digital marketing courses in Bangalore with affordable fees. The training guarantees that the students learn digital marketing strategies and processes to achieve 100% target deliverables.
The course is designed with an updated syllabus required in the industry with performance-driven and real-time projects and case studies. It includes Google Exam and Hubspot Inbound marketing certification.
They are committed to provide high-quality training by focusing on understanding concepts of simple and repetitive internet marketing techniques. They have been able to maintain 100% job placement success for all their students who have been in rhythm and dedication with their training modules.
What you can learn here
Google SEO
SEO On-page Optimization
Keyword Research Process
Technical SEO Schema Implementation
SEO Link Building/ OFF Optimization
PPC Google Adwords
Social Media Marketing
Email Marketing
Google Analytics
Contact Details
#972D, 1st Main Road, Ashraya Rowers,
S.T.Bed, 1st Block Koramangala,
Bengaluru – 560034
Call: +91 9108273335
Mail: [email protected]
https://www.emarketeducation.in/
9. INVENTATEQ
It is an Online Marketing technology company that provides job training in all types of Internet marketing courses which are useful for real-world job market. It caters to all learners ranging from beginner level to IT professionals. With a hands-on approach and practical applications, students at Inventateq are specialized in digital marketing concepts. They provide both online and offline courses meeting the market demand for high performance, reliable and affordable services. Inventateq has centers in Jayanagar, Marathahalli, BTM Layout, Rajaji Nagar and Kalyan Nagar in Bangalore and also in Chennai.
What you can learn here
Web design and Development using WordPress
Search Engine Optimization
Search Engine Marketing
Social Media Marketing
Email Campaigns and Affiliate Marketing
Google Analytics
Mobile App promotions
Online Reputation Management
Influence Marketing
Artificial Intelligence Tools for Content Creation and Marketing
Contact Details
Jayanagar Center
No.16, 2nd Floor, 11th Main Road, 33rd Cross Road,
Jayanagar 4th 'T' Block, Above Sun Times,
Near KFC, Near Sun Times in Jayanagar,
Bengaluru – 560041.
Call: +91 7353551091, 08041502315
Email: [email protected]
10. INDRAS ACADEMY
Indras Academy Bangalore started in 2014 providing courses in digital marketing, PPC, SEO, Social media marketing, data science, RPA, Ui path, web development and graphic designing. They provide both online and offline courses in limited-sized batches to ensure individual attention to students.
The students are trained practically and they can learn further by working on live projects from industry experts. The courses are designed to suit learners from all backgrounds, whether freshers or experienced marketers at the same time keeping in mind the industry trends to develop job-ready skills. They provide internship opportunities and also lifetime support in job search helping their alumni in their growth journey.
What you can learn here
Search Engine Optimization
Pay Per Click
WordPress Website Creation
Social Media Marketing
Email Marketing
Blogging and Content Marketing
Affiliate Marketing
Marketing Automation
Google Analytics and Google AdSense
Contact Details
Indras Academy, #164, Varthur Road,
Subbaiah Reddy Colony, Aswath Nagar,
Marathahalli, Bengaluru – 560067
Call: +91 8197224940
Mail: [email protected]
11. APPONIX
Apponix Technologies Private Limited is setting a benchmark in the industry with its most innovative training and recruitment company delivering classroom and online training across India, USA and UK.
They have a clear-cut placement process where once the students complete their training at Apponix, an HR collects their CVs, helps them make any improvements in the CV and connects them to clients with job openings. Students can also avail 0% interest EMI on most of the job-oriented courses at Apponix.
Along with Digital marketing certifications provided by Apponix, they also help you take up other globally recognized certifications by Google, Facebook, Hubspot, etc. Apponix has its branches in Rajaji Nagar, Marathahalli, and Banaswadi in Bangalore and also other branches in Hubli, Pune and Lucknow.
What you can learn here
Social Media Marketing
Webinar Marketing
Google AdSense and Affiliate marketing
Google Display Network Campaigns
Lead Generation methods
Hashtag Viral Marketing
Whatsapp Marketing
Landing Page techniques
Understanding Google Analytics, PPC
Bulk Email Marketing
Google and Bing Certification
Contact Details
306, 10th Main, 46th Cross,
4th Block Rajajinagar, Bengaluru -560010.
Call: +91 8050580888
Mail: [email protected]
12. EXCELR
Excelr is another leading institute that offers the best digital marketing courses in Bangalore with placement. It has a global reach with 30 franchises around the world including Australia, Malaysia, Canada, UK, Romania and South Africa, ensuring quality education and services catering to the needs of connecting the dots between industry and academia globally.
It provides a tailor-made curriculum suitable for students, professionals, corporates and educational institutions from multiple locations with a blend of classroom and instructor-led online and e-learning experience and also self-paced learning. The courses aim to prepare students for future advancements in technology, strategic thinking and planning, for a lucrative future in careers.
What you can learn here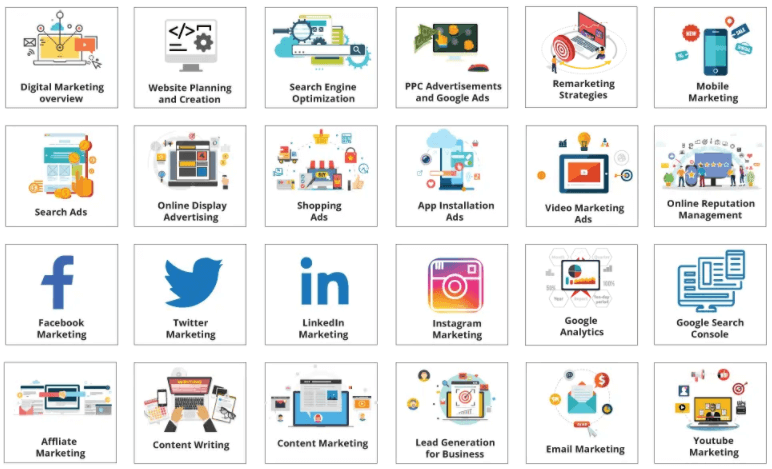 Contact Details
Address:
49, 1st Cross, 27th Main,
Behind Tata Motors, 1st Stage,
BTM Layout, Bengaluru – 560068.
Call: 096321 56744
Mail: https://www.excelr.com/
In Conclusion
It is the era of skills rather than degrees. The more you upskill yourself, there are more opportunities for you to grow in your career.
If you are wondering what to choose as a career or need a change in career and want a scalable career, then digital marketing is the right pick for the coming decade. There is a growing demand for experts in this field and many companies are seeking professionals in digital marketing. Whether it is a job, freelance or even consultancy, several opportunities are opening up in this area and it is least likely that this demand will diminish anytime soon.
You do not need any prior programming skills; familiarity with the internet is sufficient. There are not many in the current generation without knowledge of the internet. With a few months of dedicated efforts, you can also be a part of this digital evolution
Now, go ahead and pick a course from one of the above institutes. Do you know of any other top digital marketing training institute in Bangalore? Let me know in the comments.
List of Digital Marketing Courses in Other Cities
Digital Marketing Courses in Chandigarh
Digital Marketing Courses in Delhi
Digital Marketing Courses in Lucknow
Digital Marketing Courses in Mumbai
Digital Marketing Courses in Kochi
Digital Marketing Courses in Pune
Digital Marketing Courses in Jaipur
Digital Marketing Courses in Chennai
Digital Marketing Courses in Ahmedabad
Digital Marketing Courses in Hyderabad
​​Digital Marketing Courses in Jodhpur
Digital Marketing Courses in Kanpur
Digital Marketing Courses in Nagpur
Digital Marketing Courses in Kolkata
Digital Marketing Courses in Thane
Digital Marketing Courses in Ajmer
Digital Marketing Courses in Gurgaon
Digital Marketing Courses in Dehradun
Digital Marketing Courses in Coimbatore
Digital Marketing Courses in Bhubaneswar
Digital Marketing Courses in Jalandhar
Digital Marketing Courses in Amritsar
Digital Marketing Courses in Kolhapur