Imagine this.
I leave you in the middle of an unknown city and ask you to meet in a certain location.
No mobile phones, no maps, and you cannot ask anybody.
While it's not entirely impossible, you are going to take a while to find me.
Exactly like that, don't you think the search engines need a little help to find different pages on your website?
That's where XML sitemaps come into the picture. The name is pretty self-explanatory – a sitemap is a map of a site – your site.
But the name does not tell you what it does and for whom, or why is it important for SEO and how you create it. Allow me to shed some light on this but before that, let us get to know some basics.
What is an XML Sitemap?
XML stands for "extensible markup language". According to World Wide Web Consortium (W3C), the main function of an XML is to provide a simple text-based format for representing structured information or, in simple terms, it is used to describe data.
Similarly, an XML Sitemap is a blueprint of your website listing out the important URLs, what pages are included in the website, and how they are structured in a language that is easy for the crawlers to understand.
Search engines follow the XML sitemap to crawl and index the content on your website. You can use this file to let Google or any search engine know which pages are the most important on your website.
Why are XML Sitemaps important for SEO?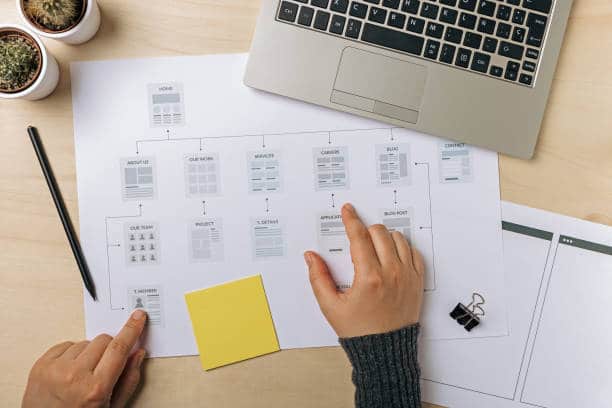 As mentioned before, search engines use the XML sitemaps to find different pages on your website. And by search engines, I am mostly going to talk about Google.
Google uses something called bots or crawlers that crawl around the world wide web looking for pages when you hit that search button on the search engine. To get the right Context to Content Google uses this sitemap.
These crawlers are incredibly fast on their own but give them a sitemap; they will find you sooner!
If the crawlers are so efficient, you might be wondering: "Do I really need a sitemap?"
The answer is NO.
Your website can survive without one, and it is not something that makes your website rank higher. Your website would be crawled and indexed either way! Then why is it important for SEO?
The answer to that is for indexing. Though your webpages can be indexed without one, adding a sitemap saves Google a lot of work.
Every website deserves to use an XML sitemap, especially so if the website:
Is new
Is large (thousands of pages with a deep architecture),
Frequently adds new pages
Frequent changes are made in the content of existing pages
Has a lot of orphaned pages (pages without any links to them)
Has a lot of rich media (images and videos) or
Has large archives
Having said that, you would not have to add a sitemap if your website is small (500 or fewer), your pages are interlinked internally, Google can find them using these links, and you don't have too many media files and news files that you want to display in the search results.
But it doesn't hurt to add a sitemap considering all the benefits that I have listed below:
It helps Google to crawl and index your website more effectively by telling it what to crawl on your website
It tells Google what kind of information is available on your website
It shows when the website was last updated on your website and how often it is updated.
It helps Google instantly index your website for dynamically-generated pages (think about e-commerce pages).
It helps your website if it has weak interlinking and not a strong external link profile.
In case your website is huge, it helps it gain better and more organized indexation.
It shows all the pages on your website even if they are deep in the architecture and not easily accessible.
Types of Sitemaps
1. XML Sitemap Index
This sitemap comes with limitations:
Max 50,000 URLs
Uncompressed file size limit of 50 MB (unzipped)
If you happen to exceed the URL limit, you need to split your URLs into different XML Sitemaps. And then, these sitemaps can be combined into one single XML sitemap index file forming a sitemap of sitemaps.
If you want Google to find your sitemap files easily:
a. Submit your sitemap index(es) to Google Search Console (and other webmaster tools for their respective search engines)
b. Add the sitemap index URLs in the robots.txt file
2. Video Sitemap
Video sitemaps help Google understand the video content on your website. It is not really necessary if you don't have any videos crucial for your business.
3. Google News Sitemap
This can be used only if the website is listed in Google News. You can include news articles from the latest two days, amounting to 1000 URLs, and you can keep adding fresh articles as and when they are published.
4. Image Sitemap
Image sitemaps were made to improve the indexation of image content. They help Google find all the images on your website.
5. Mobile XML Sitemap
This is not required for most websites but is used for feature phone pages only and not for smartphone compatibility. It is of no use to you if you do not have any specifically designed featured page URLs for phones.
6. HTML Sitemap
While XML Sitemaps assist search engines in crawling your website, HTML sitemaps are used to help your users find your content.
In the present day scenario, the question would be whether you need this type of sitemap at all, considering you are offering a good user experience and strategic internal links on your website.
7. Dynamic XML Sitemap
The static sitemaps are created using tools like the Screaming Frog.
The deal-breaking difference between static and dynamic XML Sitemaps is that dynamic XML sitemaps automatically reflect any relevant changes made on your website.
Static XML sitemaps will have you manually creating and uploading sitemaps each time you create or remove a page or your sitemap gets outdated.
Which type of sitemap is the most important for SEO?
As you must have already observed above, image, video and Google news sitemaps are content-specific, and you can use them according to relevance.
Mobile and HTML sitemaps don't really serve a purpose that is not already met by other means.
So, I can say that a good ol' traditional XML sitemap and sitemap indexes are your best bet for SEO.
And really, it doesn't hurt to have one, especially considering how easy it is to create one.
Let's find out how to do that.
How to create an XML Sitemap?
Some CMS usually generate sitemaps for you. They are automatically updated when you add or remove pages. Otherwise, you can either use certain tools or plugins to generate XML sitemaps.
Create a Sitemap using RankMath:
Install and activate Rank Math on your WordPress website if you don't have it already.
Open RankMath from your WordPress dashboard. You will see Sitemap is one of the modules offered by RankMath (you will also find this in the RankMath Setup Wizard).
Click on the Module to open the settings wizard. You can see a toggle button to enable/disable Sitemap. This module creates a sitemap and submits it to Google, saving you a lot of manual labour.
Enabling the toggle opens up several setting options for you to enable/check.
You also have the image, news, and video sitemap options. Once you have selected the settings suitable for your website, you can save changes.
Create a Sitemap using Yoast SEO
Look for Yoast SEO in plugins and install it if you already haven't.
Once you install and activate Yoast SEO on your WordPress website, go to General settings from your dashboard. Enable the toggle for XML sitemap.
You should be able to see your sitemap index on yourdomain.com/sitemap.xml or yourdomain.com/sitemap_index.xml.
After you have generated the sitemap, you will have to submit it to Google.
How to Submit your sitemap to Google?
Login to your Google account that is linked to your website and open the Google Search Console dashboard.
Under the Index section, you will find Sitemaps in the sidebar. Add your sitemap's URL in the given field and Submit.
Google usually takes a few days or weeks to start crawling your site. You will find the sitemap under Submitted Sitemaps once Google has crawled it. If it is successfully crawled, you will get the notification "Sitemap index processed successfully".
You can see the number of URLs crawled in the coverage report. You need to keep updating what pages you want or do not want in your sitemap.
The Google Search Console also tells you any errors detected
How many sitemaps should you submit to Google?
In an ordinary scenario, with small and medium level websites, one sitemap would suffice, and it allows up to 50,000 URLs. In the case of large enterprise-level websites, you would need to use the sitemap index to add multiple sitemaps.
XML Sitemaps – Best practices
Categorize content correctly. You can do this by using categories in WordPress.
Use the sitemap coverage reports to identify and fix errors and warnings.
Use Google News, Video and Image sitemaps only if they are crucial for your business.
Reference sitemap index URLs in robots.txt.
Include only SEO relevant pages in the sitemaps.
If you are using a huge website, break down things into smaller sitemaps.
Do not include non-indexed URLs, i.e. the web pages that you do not want Google to crawl.
In Conclusion
XML Sitemap may seem scary as it sounds quite technical and code-y.
You can easily create a sitemap for your website. Go checkout this XML Sitemap creator tool.
But fortunately for us non-coders, there are ample other options to generate and submit XML sitemaps in a matter of a few clicks to reap its SEO benefits.
Even if you know nothing about them, you just need to have the patience for those 20-30 minutes to understand how they work and why you need them and a few more minutes to actually add them to your website.
If you have not implemented it yet, go ahead and try it out.
Don't forget to let me know how it goes.