Are you in Pune and searching for the best SEO courses in Pune?
Well then, your search ends here.
You will find all the answers to queries regarding the best course, its fees, and the course duration here. Whether you want to do an online or an offline course, this list includes all the details.
Search Engine Optimization or SEO is a concept that has become a craze since it has helped businesses grow and boosted the careers of marketers and people from nearly every industry.
There are more than 1 billion websites today and all of them are showjumping for the attention of leading search engines like Google, Yahoo, and Bing.
So, why is SEO so important for a business or a site to get noticed?
SEO has various elements and knowing what they are and how they work is the only way to understand their importance. It has completely changed the digital marketing ball game for those who know how to execute it.
Truth be told, SEO is crucial for your website's visibility. It means more traffic and prospective customers.
For instance, we use Google to know about anything and everything in our daily life. And each time we search for some topic, the top 5 results are the ones where we find the exact result we wanted. In most cases, we don't bother to scroll down.
An SEO expert is a person who helps a website rank among the top search results to outperform its competitors.
If you are learning SEO for your business or your career prospects, opting for one of the top SEO courses is the stepping stone.
But before opting for an SEO course, go through our elaborate list of top 10 SEO courses in Pune to make an informed decision and choose one that would boost your career.
Top 10 SEO Courses in Pune
1. SCK (SEO Career Kickstarter) Program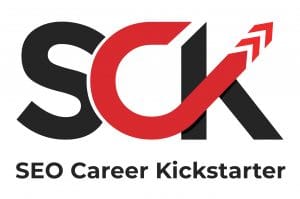 SEO Career Kickstarter (SCK) is a 10-week online program. This 100% practical SEO course has climbed the top slot in this list because it will allow you to work on a real project site.
What's more, you will get a cashback of Rs. 10,000 for implementing everything you have learned during your training.
SCK trainer, Sanjay Shenoy, strongly believes that SEO is not a knowledge problem but an execution problem. Hence, he has intentionally designed this course this way to motivate the participants to learn SEO by doing it.
Here is exactly what you will learn as part of this program:
Week 1 – Basics of SEO – Create the right foundation for your SEO journey. Get an idea about how search engines work using the R-A-U framework to know all the ranking signals that Google uses.
Week 2 – Keyword Research -You will learn how to find high-value, easy-to-rank keywords using the counterintuitive ToFu method that will help you rank for these keywords without backlinks & expensive keyword research tools. You will also learn the 6 Step content framework that will help you write epic SEO optimized content.
Week 3 – OnPage SEO – You will get the ultimate tried and tested 18-point OnPage cheat sheet (plus a bonus worth Rs. 5000) to make sure your OnPage SEO is on point! Also, learn how to write award-winning titles and intriguing introductions for your content.
Week 4 – Technical SEO Part 1 – Learn how to nail site architecture and think like a search engine. You will pick up the language of the crawlers and how to use robots.txt to communicate. Additionally, learn everything about mobile SEO and implementing AMP on your website.
Week 5 – Technical SEO Part 2 – You will learn how to make your website super-fast and improve your Google Page Speed insights score the right way. Also, you will get an insight into structured data, SSL certificates, and optimizing for voice SEO.
Week 6 – Off-Page SEO Part 1 – You will get an understanding of what a backlink is. You will also learn about the difference between a do-follow and a no-follow link. Sanjay will provide you with a step-by-step guide to building your first set of high- quality backlinks.
Week 7 – Off-Page SEO Part 2 – On your 7th week, Sanjay tells you about the importance of anchor text and the 4 crucial ways to build backlinks and uncover the best source to find backlinking opportunities.
Week 8 – Local SEO – You will learn about Local SEO and why it is the most underrated channel in SEO. Additionally, Sanjay will show you how to set up and optimize your Google My Business profile using NAPs.
Week 9 – YouTube SEO – You will learn the 9 critical YouTube ranking factors, the 4 simplest ways in which you can start making videos, and how to upload and optimize videos to rank both on YouTube and Google.
Week 10 – Site Audit, Strategy, and Proposal – Learn how to perform a complete site audit from scratch and craft a realistic SEO strategy. Sanjay will also show you how to price your SEO services and manage your SEO project without getting overwhelmed.
The best part about this course is you will also get SEO tools and resources worth Rs. 71,250. Here is a list of SEO tools and resources you will be getting when you sign up for this program:
Astra Pro high-performance WordPress theme worth Rs. 17,000
WP Rocket premium WordPress performance plugin worth Rs. 18,000
WPX hosting, the world's best and fastest SEO optimized hosting worth Rs.5,250
Rankmath Pro WordPress SEO plugin worth Rs. 5,000
Ultimate SEO playbook course worth Rs. 10,000
Content Marketing Mastery course worth Rs. 10,000
Exclusive list of 1000+ High Authority Domains to create backlinks worth Rs. 10,000.
SCK has helped over 500 SEO aspirants land high-paying jobs, close high- ticket clients, generate revenue for their businesses, and also earn passive income through affiliate marketing. Most importantly, this course focuses more on the implementation of what you have learned throughout the course.
Contact Details
Location: Online
Email: [email protected]
Apply here: SCK Program
2. PDIIM, Pune
Pashium International Institute of Digital Marketing (PDIIM) was established in 2018, with the vision to empower aspirants with digital knowledge. It has a team with practical experience that can help you acquire digital marketing knowledge. PDIIM trainers have implemented all modules and covered every single topic that comes under SEO.
Course Content
Search Engine Fundamental
✓ What Is Search Engine
✓ Top Search Engines
✓ How Search Engine Works
✓ What Is SEO
✓ Types Of SEO
✓ What Are Meta Tags & Importance ✓ Meta Title
✓ Meta Description
✓ Meta Keywords
✓ URL Optimization
✓ Content Optimization
✓ Keywords / Keywords Density
✓ Bold / Italic / Underline
✓ Heading 1 To 6
✓ Anchor Text
✓ Page Load Time Optimization
✓ Image Optimization
✓ Favicon
✓ Local SEO Introduction
✓ Local SEO Ranking Factors
✓ Google My Business Setup
✓ What Is Keyword & Keyword Research
✓ Tools Used For Keyword Research
✓ How To Use Keyword Planner
✓ Types Of Keywords
✓ White Hat SEO Techniques
✓ BlackHat SEO Techniques
✓ Gray Hat SEO Techniques
Apart from these PIIDM Advanced SEO training promises 100% placement assistance, 100% practical sessions, affordable fees, ISO certification, 10+ latest modules, portfolio building and evaluation, study portal and material, lifetime support, 10+ years of experienced faculty, personal mentorship, 10+ assignments, and online training.
Contact
Location:
404, Shivank Building, Apte Road,
Opt Venus FC Road, Deccan, Pune,
Maharashtra 411004
Email: [email protected]
Website: https://piidmpune.com/seo-course-in-pune/
Duration: 2 months
3. Simplilearn

Simplilearn is one of the reputed online Bootcamps and a leading certification training provider. Their advance SEO course aims at turning you into a full-stack SEO professional driving sustained growth in your website's most critical marketing channel.
Simplilearn is specialized in training people who wants to acquire the skills needed to thrive in the digital economy.
Course Content
Lesson 1: SEO introduction
Lesson 2: How search engine works
Lesson 3: Types of SEO
Lesson 4: Keyword Research and Competitive Intelligence Lesson 5: On page optimization
Lesson 6: Off page optimization
Lesson 7: Duplicate Content
Lesson 8: Design and Architecture
Lesson 9: Local SEO
Contact:
Location:
NALANDA 53/1 C, Manoj Arcade, 24th Main Rd, Sector 2, HSR Layout, Bengaluru – 560102, Karnataka, India.
Call at: 1800-212-7688
Website: https://simplilearn.com/
Duration: The self-paced learning course can be completed according to your convenience. The online Bootcamp features 90 days of flexible access to online sessions and covers both self-paced courses and live online classroom sessions.
4. NSDM
NSDM has designed unique "five moments of Learning" methodologies for those who want to learn digital marketing. It focuses on arming you with the necessary skill sets so that you can create and implement effective, result-driven, and integrated search engine optimization strategies to help your personal or client's brand long-term and authentic SEO results.
Course Content
Website planning and analysis
Understanding web technologies
Introduction to SEO
What are search engines?
How do search engines work?
Understanding search engine algorithms
Traffic vs Hits
In-depth keyword research and analysis
Types of keywords
Keyword mapping
Comprehensive competition analysis
How to conduct an SEO audit?
White hat vs black hat practices
Content analysis
On-page SEO
Off-page SEO
Contact
Location:

Row House 2, Legend Fragrance, Lane Number 2, Near Westside, Laxman Nagar, Baner, Pune, Maharashtra 411045
Call at: 7276527456/880634015
Email: [email protected]
Website: https://nsdmindia.com
Duration: The duration of this course is flexible. Classes are offered in weekdays and weekends according to your convenience.
5. Digital Vidya
Digital Vidya began offering social media training seminars in 2009. After the humungous success of their first trial, the company decided to offer a complete digital marketing course in 2013.
Some of the features of Digital Vidya's SEO Certification Course are:
Live Instructor-led Sessions
Lifetime access to Latest Content (Presentations & Videos)
Research-Based Internship
Hands-on Projects and Assignments
24X7 Trainer's Support on Discussion Forum
Course Content
History of Search & Introduction to SEO
How Google Works – Basics of SEO
Keyword Research & Competitive Analysis
Link-Building
On-Page Best Practices
Periodic Table of SEO success factors
SEO Career Paths
SEO Friendly Design & Architecture
SEO Site Audit
SEO Tracking
The Future of SEO
Social, Local, Mobile (SoLoMo) SEO Strategies
Technical Website Optimization
Algorithm update
Contact
Location
31, Cloud 9, NIBM Road, Pune, Maharashtra 411060
Call at: 9870310284
Email: [email protected]
Website: www.digitalvidya.com
Duration: Digital Vidya's FastTrack training is for 4 months while their regular track training is for 5 months.
6. Victorrious Digital
Victorrious Digital promises to provide practical knowledge through actual projects. 2500 participants have enrolled in their training program and they offer 100% career help, as mentioned on their website.
Course Content
Search engine and its basic
Keyword research
Domain names and extensions
Website wireframe and architecture
Google Algorithm
Paid / spam blogging
Google Analytics Tool
SEO Tools
On-page SEO
Off-page SEO
Duration: Online classes available for SEO are for 25-30 hours.
Location: Deccan Gymkhana
Office No -102, 24, 1st Floor, Princeton Plaza, Above Chitale Bandhu, Near Garware Bridge, Deccan Gymkhana, Pune – 411004
Call at: 9545022110
Email: [email protected]
Website: https://victoriousdigital.in
7. LIPS India
LIPS India offers one of the best SEO courses in Pune. Their SEO course is all about learning to drive free traffic to any website. After the completion of this course, you can apply for a job in any digital media agency, internet marketing team of a company, or work as a freelancer.
Course Content
Google Adwords
Mobile marketing
Video Optimization
Email marketing
SEO Off-page
SEO On-page
Social Media Marketing
Website creation
Duration: It is a 100+ hours course and provides both weekdays and weekend classes option.
Contact
Location: LIPS INDIA, Above Intuition ITLabs B-3, Ragvilas Housing Society, Lane D, North Main Road, Koregaon Park, Pune Maharashtra 411001
Call at: 098334 58906
Email: [email protected]
Website: https://lipsindia.com
8. PromozSEO

PromozSEO has ranked as one of the 10 most promising digital marketing training institutes in India, as per Silicon India magazine. It is one of the fastest-growing SEO training institutes in Pune.
Course Content
Module 1: Basics and Introduction to search engine
Module 2: HTML Structure, Semantic Errors and Validation
Module 3: Advanced SEO Keywords Analysis Training
Module 4: Advanced E-Commerce Keyword Analysis Training
Module 5: On-Page Search Engine Optimization (Onsite SEO) Training
Module 6: Advanced Rich Snippet Markup – Structured Data Training
Module 7: Advanced Google Search Console (Google Webmaster), Google Analytics and Bing Webmaster Training
Module 8: Blogging for SEO Training
Module 9: Advanced WordPress SEO Training
Module 10: Advanced WordPress SEO Training
Module 11: Competition Analysis Training
Module 12: Advanced Off-Page Search Engine Optimization (Offsite SEO) Training
Module 13: Local SEO training
Module 14: Advanced Mobile SEO Training
Module 15: Advanced and Technical Search Engine Optimization Training
Module 16: Advanced Conversion Rate Optimization (CRO) Training
Module 17: Advanced Voice Search Optimization Training
Module 18: Advanced Website Audit and Site Recovery Training
Module 19: New Secret SEO and Ranking Recipe 1
Module 20: New Secret SEO and Ranking Recipe 2
Module 21: New Secret SEO and Ranking Recipe 3
Module 22: SEO Company Job and Freelancing Projects
Duration: Go to the website for more information on the duration of the course.
Contact
Location
Email: [email protected]
Call at: +91-7278581909
Website: https://promozseo.com/
9. Digital Scholar

Digital Scholar has assisted many students in learning digital marketing. Sorav Jain, a well-known digital expert, will guide you in this world of digital marketing. The company also provides internship opportunities to learners.
It offers both online and offline SEO courses.
Course Content
WordPress Management
Social Media Management
Search Engine Optimization
Search Engine Marketing
Sales Funnels
Personal Branding
Orientation & Fundamentals Of Marketing
LinkedIn Marketing
International freelancing
Instagram Influencer Mastery
Facebook & Instagram Ads
Email Marketing
Content Writing
Automation
Agency Management Duration: The online course is designed for 3 months and gives in-depth knowledge on all aspects of SEO.
Contact
Location: 1B, Sapna Trade Centre, 135, Poonamallee High Road, Pursaiwalkam, Chennai 600084.
Phone: +91 93610 72918
Email: [email protected]
Website: https://digitalscholar.in
10. IIDE- Indian Institute of Digital Education

IIDE is one of the largest digital marketing colleges in India. The Indian Education Congress and Awards 2020 has named IIDE "India's Best Digital Learning Institute".
Its SEO course follows an advanced teaching methodology. It provides thorough digital marketing training
Course Content
Laying the groundwork for online SEO Training
Keyword Research: Integral part of On-page SEO
On-page SEO Tutorial
Google- proofing your website
Off-page SEO Tutorials
Google Search Consoles
Blackhat Techniques
Duration: The duration of this SEO course is around 7 hours.
Contact
Location: IIDE Campus, 1st Floor, Andheri Girls' Education Society, S. V. Road, Opp. Bank of Baroda, Near GK Gokhale Bridge, Andheri West, Mumbai – 400058

Email: [email protected]
Website: https://iide.co/seo-course-online/
Call at: +91 7304442840
Conclusion:
On a final note, the SEO courses mentioned in this list allow you to upgrade your SEO skills. You can now do it from the comfort of your home online, or you can join a class.
Most importantly, SEO is all about real-life use or practical knowledge. So go through the list carefully and choose a course that focuses on turning you into an expert in practical application.
Let me know whether this list has helped you find the best SEO training course by commenting below.
List of SEO Courses in other Cities